Archive for the 'Videos' Category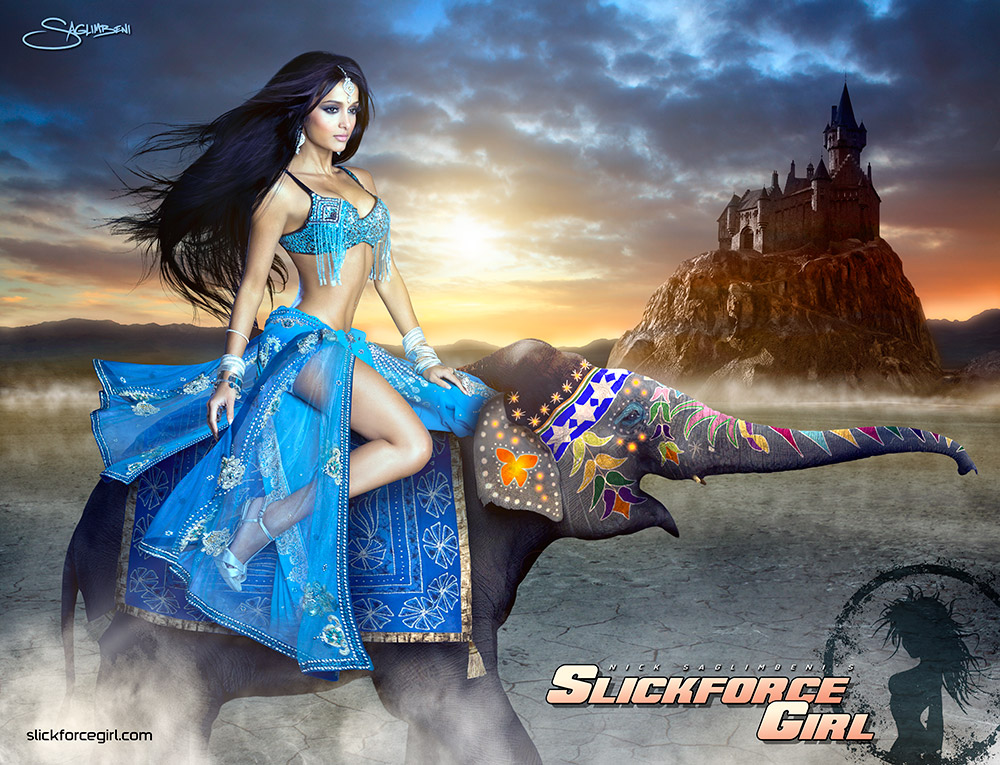 Travel to a remote location for a behind-the-scenes look at our SlickforceGirl shoot with the stunning Ayanna Jordan. She embraces the Indian Princess role wholeheartedly, and keeps the crew laughing along the way. My thanks to the lovely Ms. Jordan for her devotion to the SlickforceGirl campaign. Order your Limited Edition Princess Ayanna posters
here
. A portion of proceeds from poster sales are donated to the Breast Cancer Charities of America's 
iGoPink
campaign
. Photography by
NICK SAGLIMBENI
Makeup by
THERESE WILLIAMS
Hair by
AL INGRAM
Wardrobe Styling by
DIANA CHAN
Track: "Light Speed" by Peter McIsaac Music
Behind-the-scenes video from our SlickforceGirl shoot with the amazing Kaitlynn Carter. It would be hard to ignore just how sincere Kaitlynn is in her portrayal of her firefighter character, and one quick look shows you the amount of fun we had on set that day. My thanks to the wonderful Ms. Carter for her devotion to this courageous role. Order your Limited Edition Firefighter Kaitlynn posters 
here
. A portion of proceeds from poster sales are donated to the Breast Cancer Charities of America's iGoPink 
campaign
.
Here's a brand spanking new video taking you behind-the-scenes on the making of Arctic Spy Nazanin's shoot. Model Nazanin Mandi slipped into the espionage-themed shoot with remarkable ease, making us all wonder if this whole modeling thing is just a cover. This shoot day was a particularly large production, as we photographed several of the SlickforceGirls in one day. My thanks to the amazing team that helped us pull it off!
CREDITS:
Model:
Nazanin Mandi
Photographed & Produced by
Nick Saglimbeni
Hair by
Al Ingram
Make-up by
Therese Williams
Styling by
Diana Chan
Vintage Faux Fur: stylist's own.
Alright guys, this might be my favorite SlickforceGirl video yet. You've seen the
beautiful Vanessa Veasley in harness training
, and
she's walked you through her spaceship set
. Now, go backstage with SlickforceGirl Stunt Coordinator Alex Wen as we put it all together and make Vanessa fly. So proud of Vanessa for being a consummate professional and a tough-as-nails trooper on this intense shoot—I can't even imagine how uncomfortable it is hanging from a string, but she makes it look easy. This is probably the most fun I've ever had on set. My thanks to Alex Wen, the entire
SlickforceStudio
team, glam squad Gaby Ramos Torell, Al Ingram and Diana Chan, and everyone who made this shoot possible. Up, up and away!
SlickforceGirl: Behind the Scenes with Erika Medina from Nick Saglimbeni on Vimeo.
Here's a cool behind-the-scenes look at the making of Erika Medina's SlickforceGirl shoot. What a fun (and cold) day this was! Thanks to Erika for being such a trooper during the shoot, and to the entire SlickforceStudio team who helped us pull off this dynamic concept. See the finished shots from Erika's SlickforceGirl shoot
here
. And order the Erika's Collector's Edition "Unzipped" 24x36 wall poster
right here
before they're gone!
CREDITS:
Photography by
Nick Saglimbeni
Make-up by
Gaby Ramos Torell
Hair by
Al Ingram
Wardrobe Styling by
Sarah Ellis & Amanda Carter
Cinematography by
David A. Rivera
for
SlickforceStudio
Edited by
Daniel U. Magana
for
SlickforceStudio
Here's the first in-depth look at the making of the very first SlickforceGirl shoot. I'm not going to say much here because the video speaks for itself. The scale of this shoot was larger than even I had anticipated, but it was also ultimately the most exciting single production day of my career. What a blast to be able to see so much of what's inside your head manifest before your eyes into a reality. My thanks to the amazing team of artists and assistants who helped us pull off this stellar shoot. Lots more to come from our space-traveling hero. Enjoy!