Archive for the 'SlickforceGirl Art' Category
This February, Arctic Spy Nazanin encourages her fans to "Bundle up", in this Collector's Edition 11x17 mini-poster. A portion of proceeds from poster sales are donated to the Breast Cancer Charities of America's
iGoPink
campaign
. Order your posters at the SaglimbeniStore
here
. The SlickforceGirls need your help. Join the fight!
CREDITS:
Model:
Nazanin Mandi
Image by
Nick Saglimbeni
for
SlickforceStudio
Hair by
Al Ingram
Make-up by
Therese Williams
Styling by
Diana Chan
Vintage Faux Fur: stylist's own.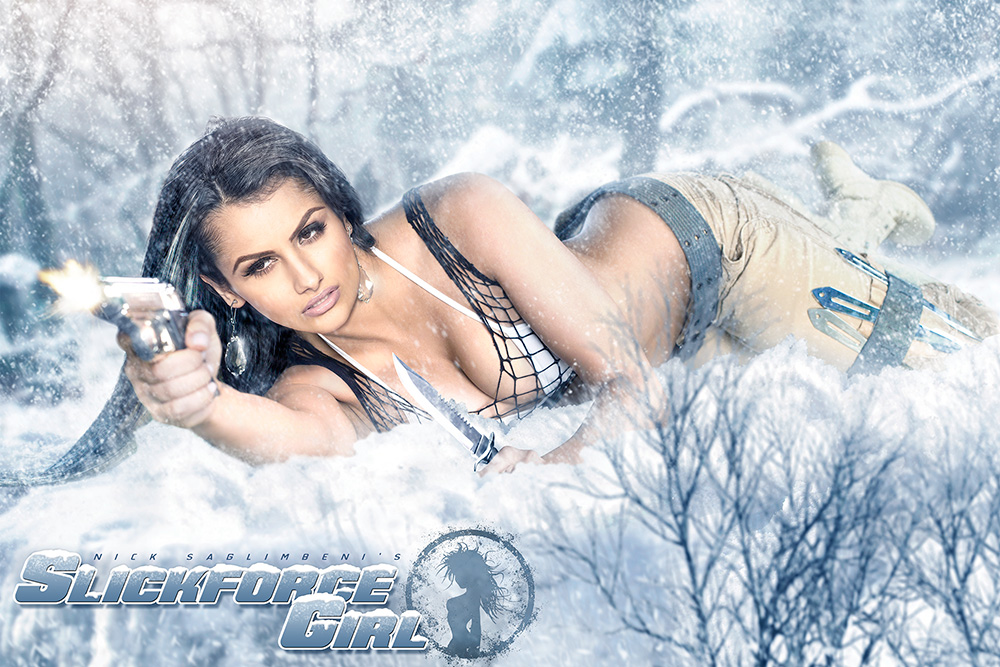 SlickforceGirl Nazanin is a cool cat. So cool, in fact, she might just give you frostbite. But don't let her seductive looks fool you—cross this stunning superspy and she'll take you out in your sleep. Either way, we're just glad she's on our side...we hope. Stay tuned for more from this blizzard-dwelling beauty.
[caption id="attachment_510" align="aligncenter" width="560" caption="Try me."]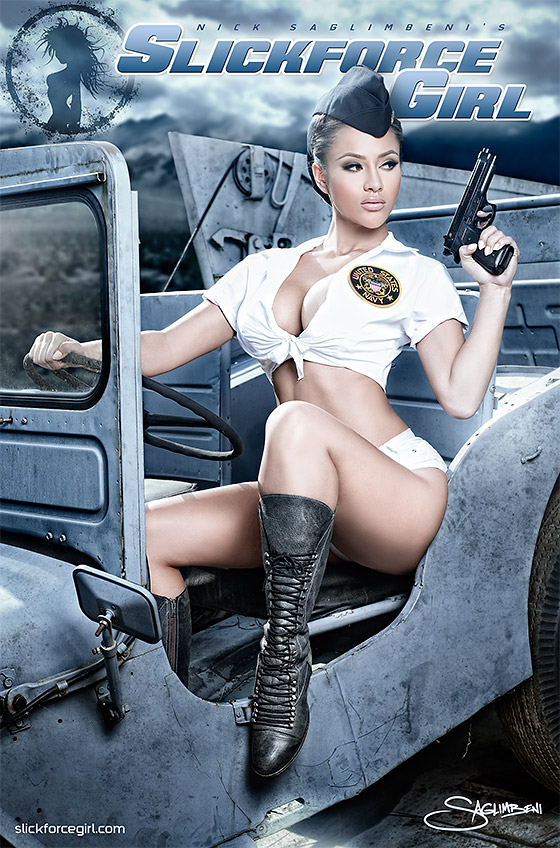 [/caption] Naval Commander Brittany surveys the landscape. Some say she's keeping a watchful eye, others might venture she's looking for trouble. Either way, you don't want to end up on her bad side. Join Brittany,
Erika
,
Vanessa
and the other SlickforceGirls in the fight against breast cancer. Brittany's Limited Edition action posters arrive January 1.
Be the first to get them here
!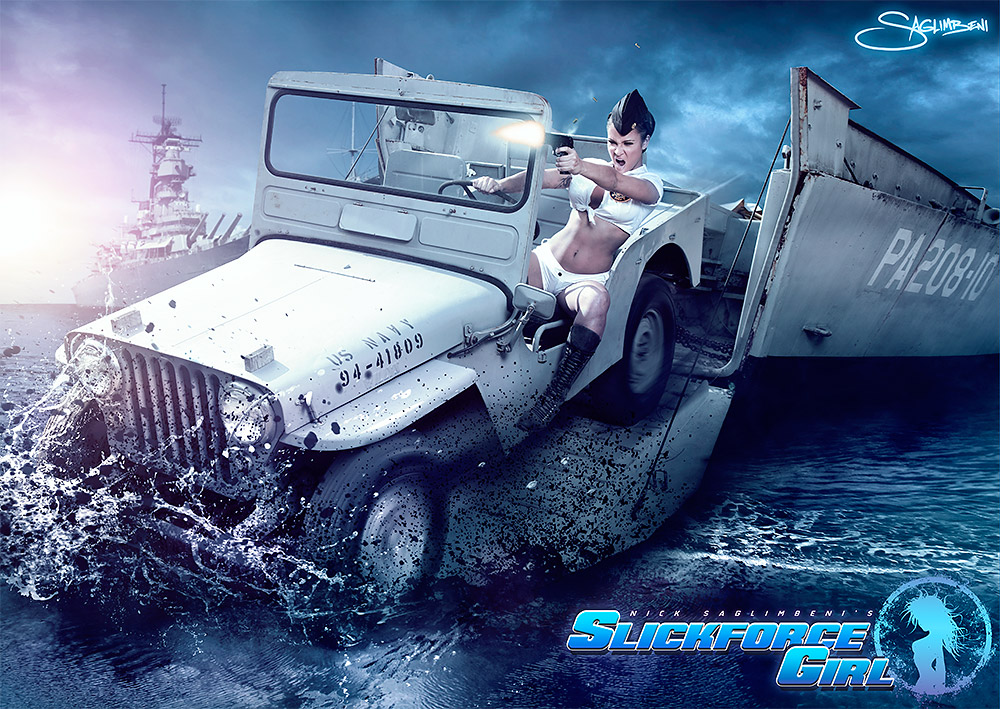 All is quiet on the Western Front. That is, until Navy Commander Brittany crashes to shore. Model Brittany Dailey joins the cast of SlickforceGirl as she springs into action to help fellow heroes Erika & Vanessa. Pre-order Brittany's explosive Collector's Poster
right here
, and a portion of your purchase will go to help the fight against breast cancer. Stay tuned for more adventures—including wild new photos and videos—from our power-packed team right here at
SlickforceGirl.com
!
CREDITS:
Photography by
Nick Saglimbeni
Make-up by
Gaby Ramos Torell
Hair by
Al Ingram
Wardrobe Styling by
Sarah Ellis & Amanda Carter
When Air Force Airman Erika isn't busy saving the world, she's thanking real heroes who fight for freedom every day. This Veteran's Day, Erika salutes the troops by with this special unzipped version of "Thank you for your service." The Airman Erika pin-up image is now available as a stunning limited edition 24"x36" poster. A portion of profits from poster sales will be donated to the 
Special Operations Warrior Foundation
, which helps wounded veteran's and their families within the U.S. Special Forces community, including Army Green Berets, Navy SEALs, Air Force Combat Controllers and Marine Corps special ops personnel. Pre-order the poster now at 
SaglimbeniStore.com
 and receive it before the holidays. Ships worldwide.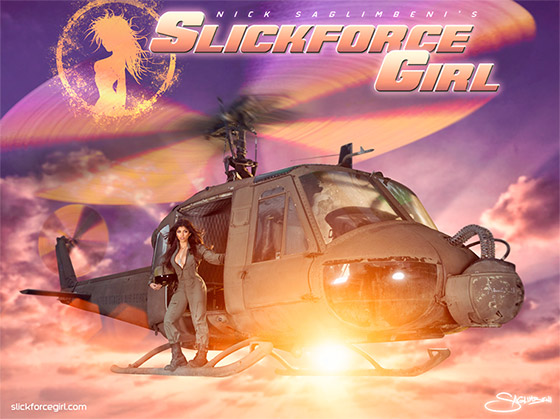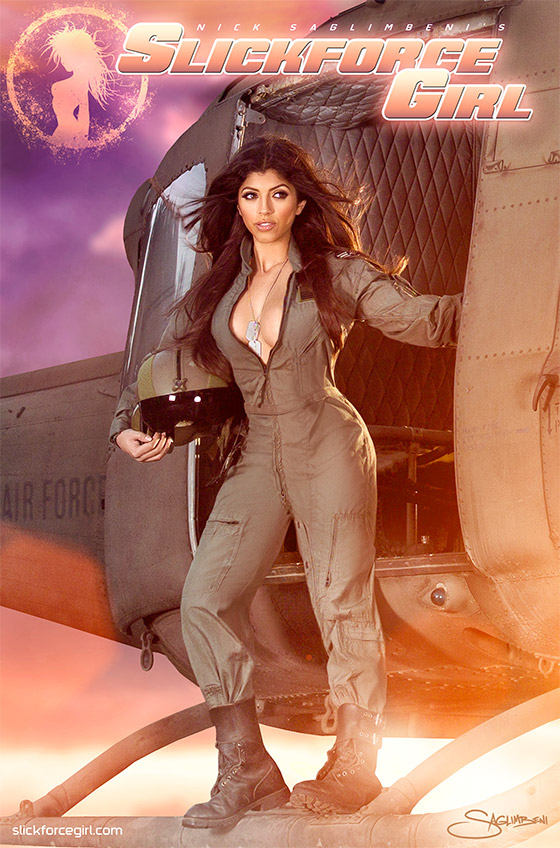 Just when Vanessa thought she was alone, Air Force pilot Erika swoops in to help. This courageous airman has lots more to show you in the coming weeks, but she kicks off the fight today with her
Limited Edition 27"x41 Collector's Poster
. Only 15 fine-art prints have been made, each one is hand-signed and numbered by Nick Saglimbeni and model Erika Medina. A portion of the proceeds is donated to
iGoPink.org
to help in the fight against breast cancer. Now it's your turn to join the fight!
See Erika's Limited Edition Poster at the SaglimbeniStore!
CREDITS:
Photography by
Nick Saglimbeni
Hair by Al Ingram Make-up by Gaby Torell Styling by Sarah Ellis & Amanda Carter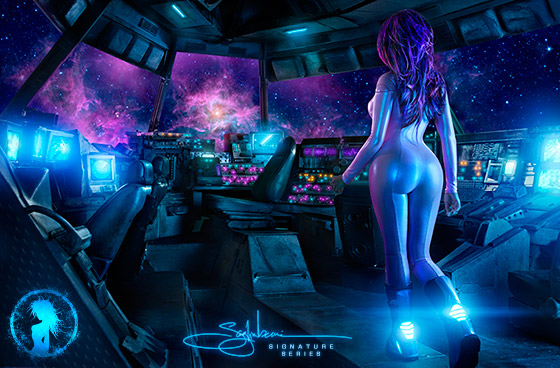 Hey guys, this week in the
Saglimbeni Store
, I've released the first SlickforceGirl one-sheet fine art poster. Each 27"x41" print is hand-signed and numbered by me and model Vanessa Veasley, and is printed on premium lustre art stock using Epson UltraChrome K3 archival inks. We've used an 8-color process and the colors are incredible. Only 50 fine art prints have been made, and prices will rise as inventory decreases. As with most SlickforceGirl art, a portion of the proceeds will go to fight breast cancer through Breast Cancer Charities of America's
iGoPink
campaign. Order your Limited Edition SlickforceGirl poster
here
, and thank you, as always, for your support!