Here's a brand spanking new video taking you behind-the-scenes on the making of Arctic Spy Nazanin's shoot. Model Nazanin Mandi slipped into the espionage-themed shoot with remarkable ease, making us all wonder if this whole modeling thing is just a cover.
This shoot day was a particularly large production, as we photographed several of the SlickforceGirls in one day. My thanks to the amazing team that helped us pull it off!
CREDITS:
Model: Nazanin Mandi
Photographed & Produced by Nick Saglimbeni
Hair by Al Ingram
Make-up by Therese Williams
Styling by Diana Chan
Vintage Faux Fur: stylist's own.
This February, Arctic Spy Nazanin encourages her fans to "Bundle up", in this Collector's Edition 11×17 mini-poster. A portion of proceeds from poster sales are donated to the Breast Cancer Charities of America's iGoPink campaign. Order your posters at the SaglimbeniStore here.
The SlickforceGirls need your help. Join the fight!
CREDITS:
Model: Nazanin Mandi
Image by Nick Saglimbeni for SlickforceStudio
Hair by Al Ingram
Make-up by Therese Williams
Styling by Diana Chan
Vintage Faux Fur: stylist's own.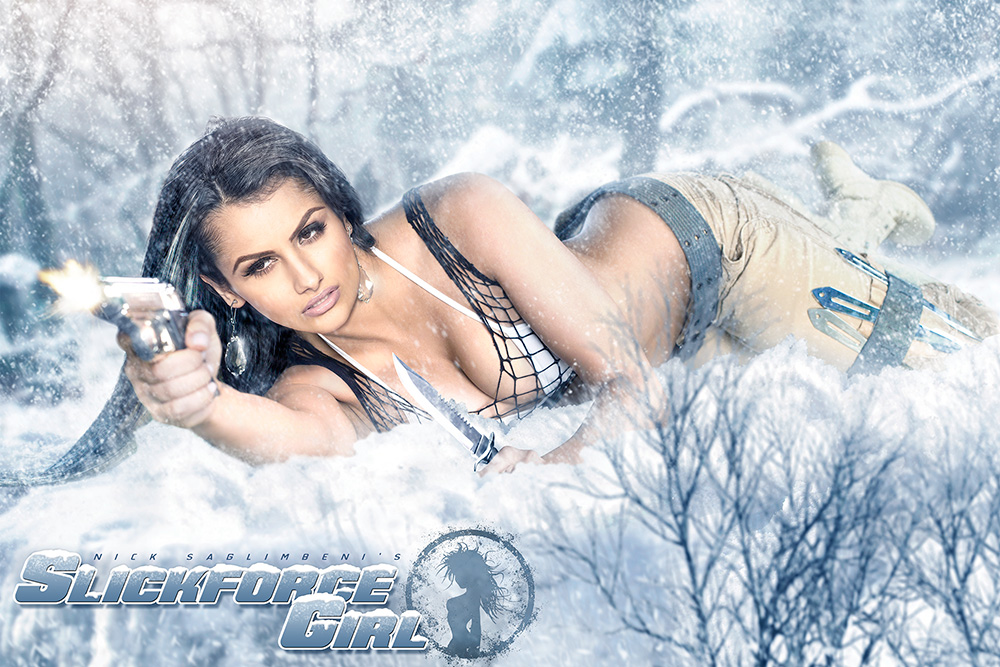 SlickforceGirl Nazanin is a cool cat. So cool, in fact, she might just give you frostbite. But don't let her seductive looks fool you—cross this stunning superspy and she'll take you out in your sleep. Either way, we're just glad she's on our side…we hope. Stay tuned for more from this blizzard-dwelling beauty.
In early December, the SlickforceGirl team reached out to several battalions of deployed U.S. troops overseas to find out what items they needed in the field. Our team put together more than a dozen care packages and shipped them out just before Christmas. Over the last few weeks, we've begun to receive confirmations of package arrivals in various destinations—many of them delivered by helicopter to the most remote of locations—including this photo from an undisclosed Air Force base in Afghanistan. It shows Airman Amico and two of his fellow airmen, cheered on by SlickforceGirl Erika.
Our heartfelt thanks goes out to the men and women who risk their lives everyday for others. Your bravery in the most dangerous situations continues to inspire us, and it is a sobering reminder of just how many freedoms we take for granted as civilians. Be safe, and we wish you a speedy journey home.
Alright guys, this might be my favorite SlickforceGirl video yet. You've seen the beautiful Vanessa Veasley in harness training, and she's walked you through her spaceship set. Now, go backstage with SlickforceGirl Stunt Coordinator Alex Wen as we put it all together and make Vanessa fly. So proud of Vanessa for being a consummate professional and a tough-as-nails trooper on this intense shoot—I can't even imagine how uncomfortable it is hanging from a string, but she makes it look easy.
This is probably the most fun I've ever had on set. My thanks to Alex Wen, the entire SlickforceStudio team, glam squad Gaby Ramos Torell, Al Ingram and Diana Chan, and everyone who made this shoot possible. Up, up and away!
Naval Commander Brittany surveys the landscape. Some say she's keeping a watchful eye, others might venture she's looking for trouble. Either way, you don't want to end up on her bad side.
Join Brittany, Erika, Vanessa and the other SlickforceGirls in the fight against breast cancer. Brittany's Limited Edition action posters arrive January 1. Be the first to get them here!