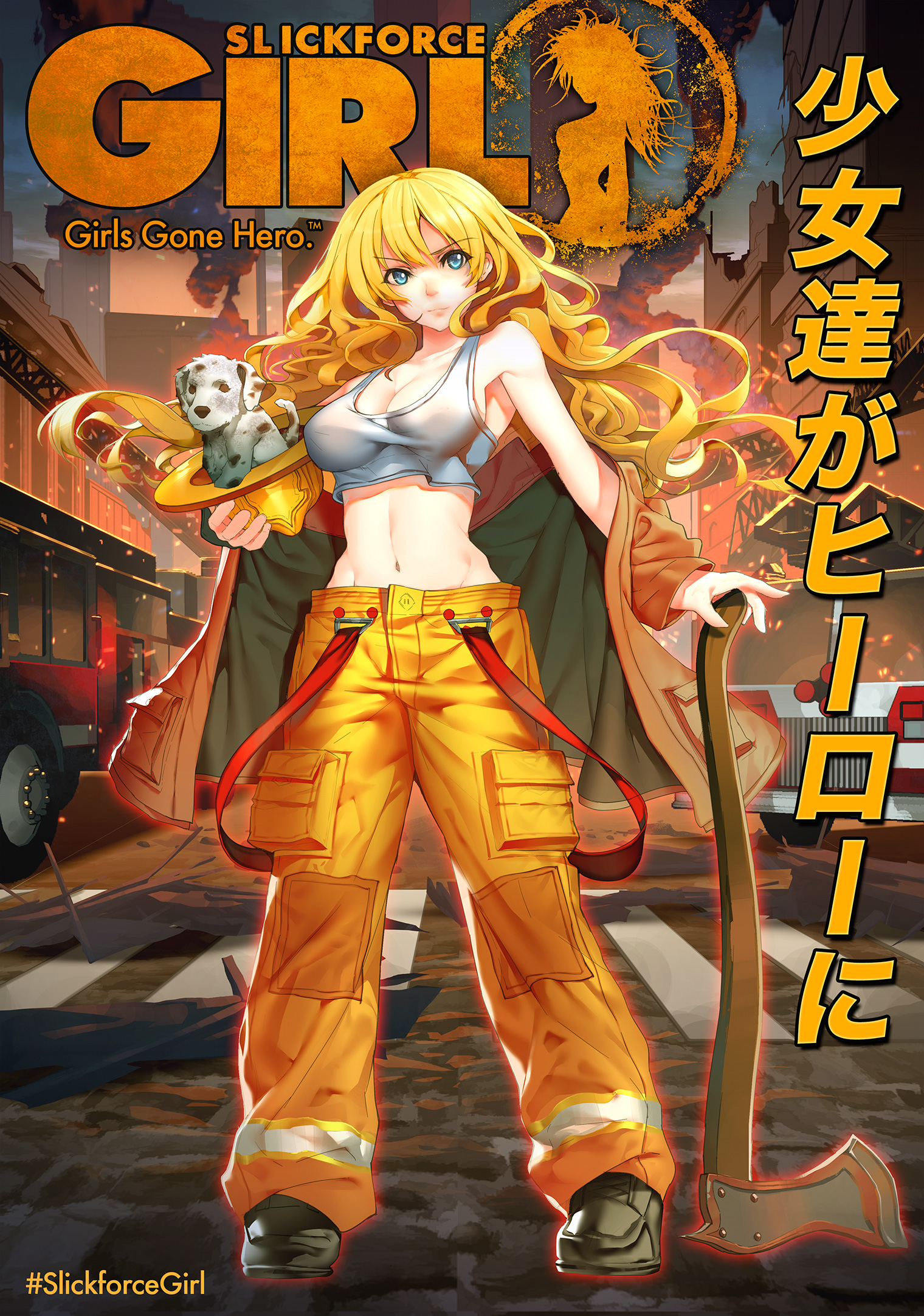 Apparently, the SlickforceGirls are reaching the far corners of the globe. We just received this amazing artwork of our brave firefighter Kaitlynn Connor, by illustrator Ian Kafat in Tokyo—marking the first time a SlickforceGirl has been drawn as Japanese Anime.
What adventures will Kaitlynn encounter in the Land of the Rising Sun? How will she communicate? Do Japanese firefighters even use the same equipment? So many questions, so few answers.
Only one thing is certain: 少女達がヒーローに.
Click the image for the full HD version!
Anime Kaitlynn by Ian Kafat – Deviant Art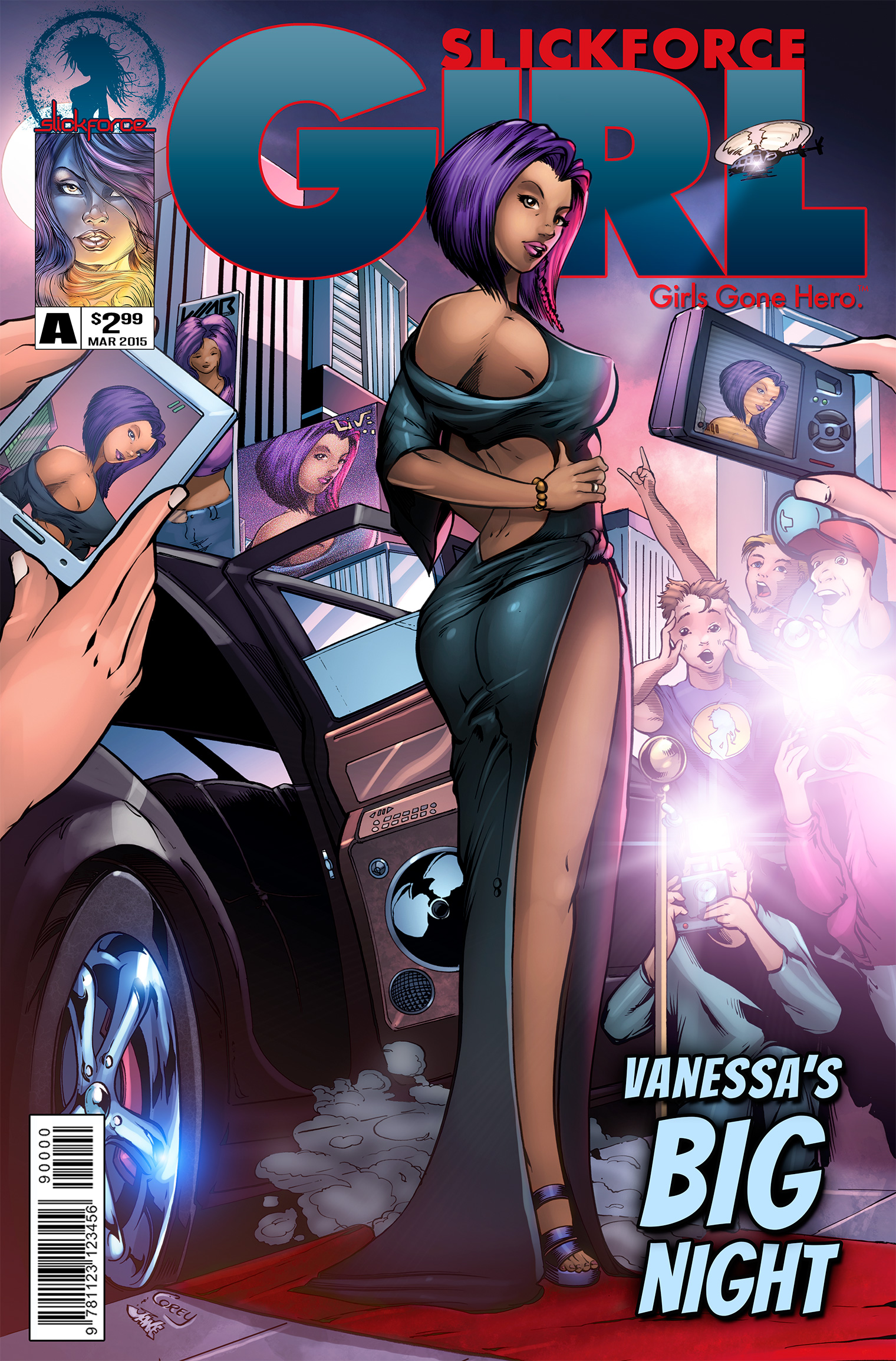 It's awards season, and this year our gorgeous astrophysicist has managed to find her way back from deep space, just in time to walk the red carpet at the 87th Academy Awards. This beautiful piece comes to us from penciler Corey Knaebel, inker Jake Isenberg and colorist Mennyo. The SlickforceGirl team has an Oscar pool going, and while we're not entirely sure if any of our picks will win, we are quite certain that Vanessa will win Best Dressed.
Click on the image for the full-size wallpaper, and enjoy your Oscars!
Pencils by Corey Knaebel – Deviant Art | Website | Facebook
Inks by Jake Isenberg – Deviant Art | Facebook
Colors by Mennyo – Deviant Art | Facebook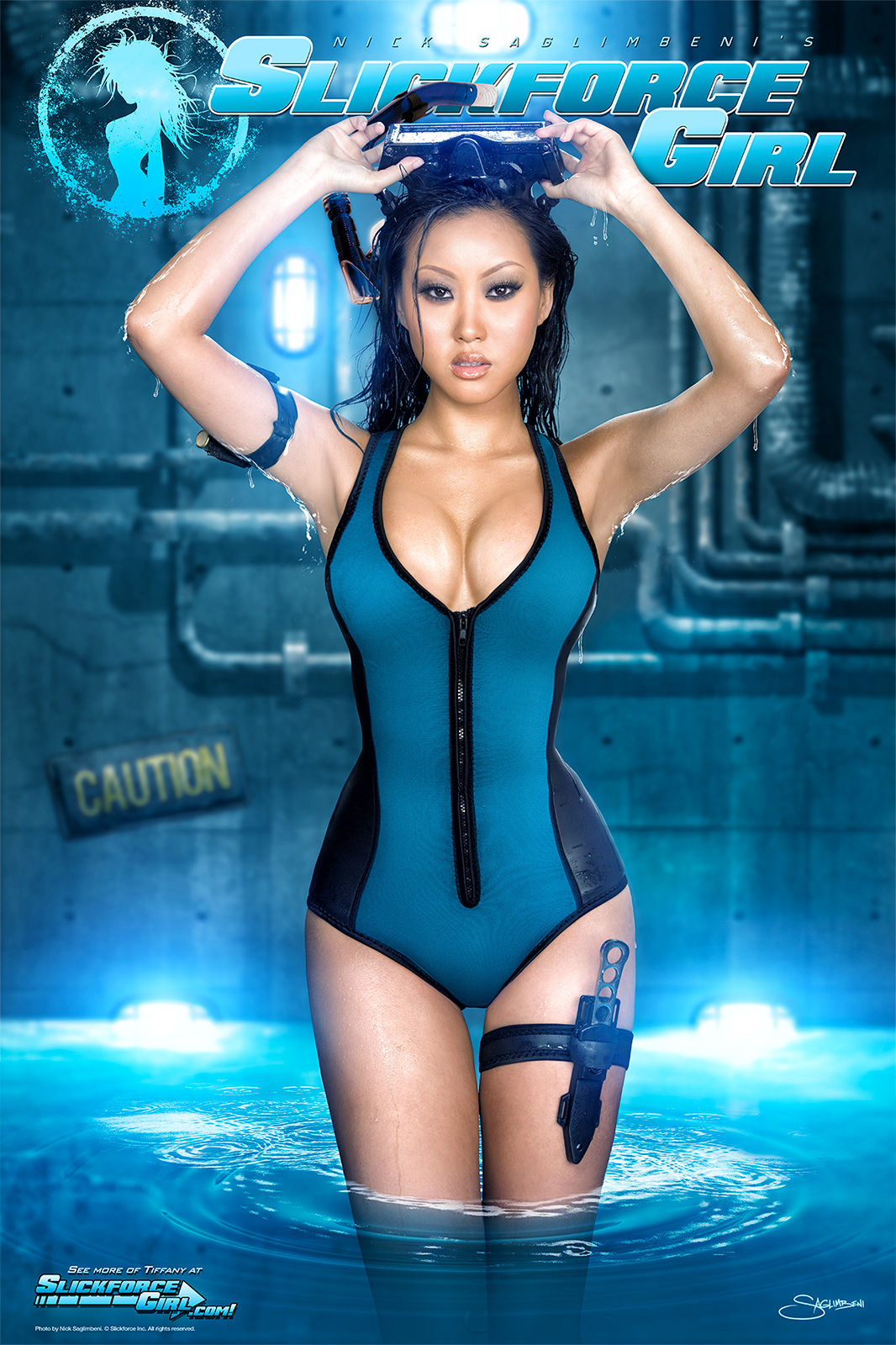 It's not easy saving the world, especially when you spend most of your time underwater. Our hero & resident aquatic SlickforceGirl Tiffany comes up for air in this new poster art by the SlickforceStudio team. Click the image for the full HD version, and collect all the SlickforceGirl posters & gear right here!
CREDITS:
Photography by NICK SAGLIMBENI
Makeup by THERESE WILLIAMS
Hair by AL INGRAM
Styling by DIANA CHAN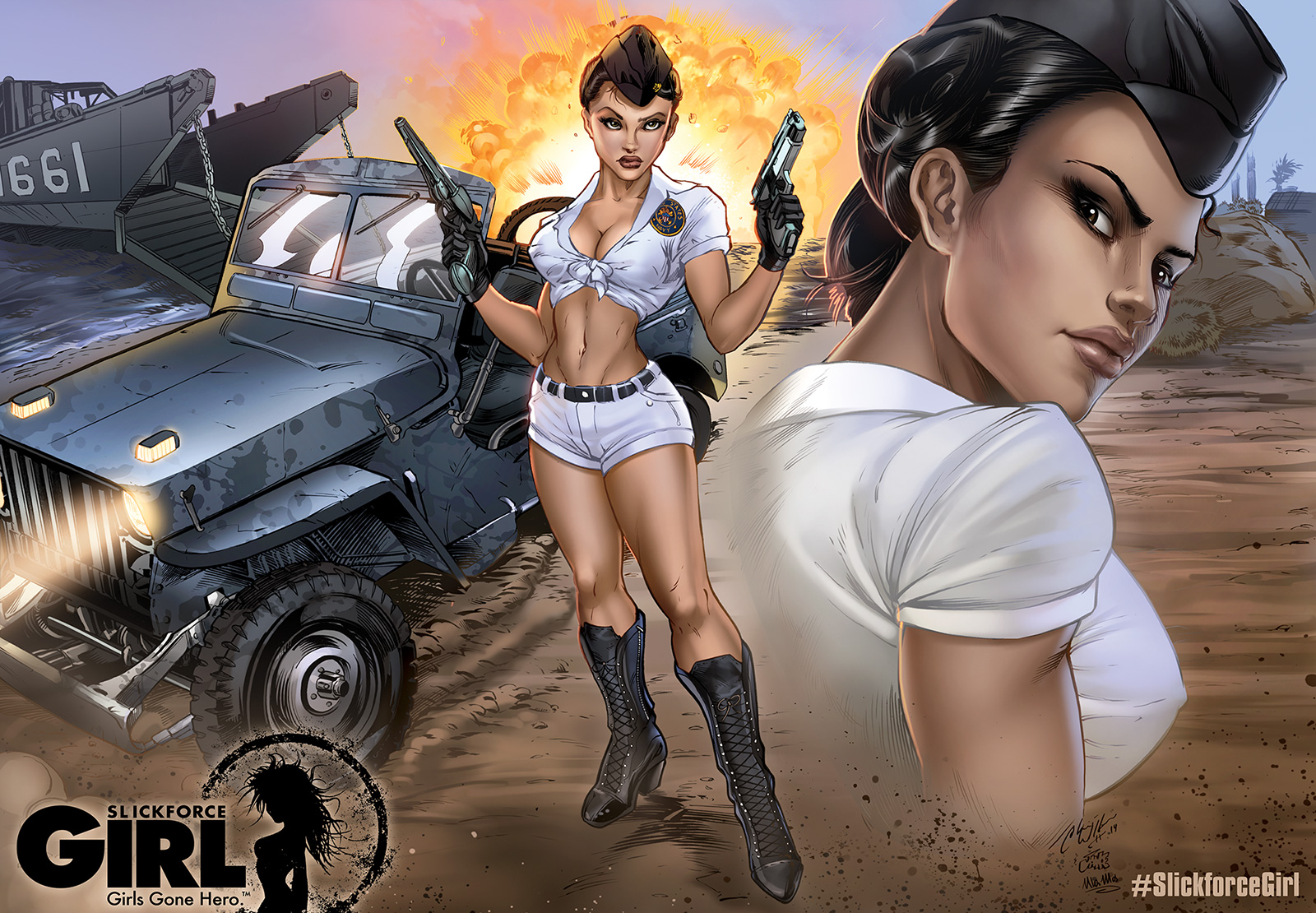 Commander Brittany made quite a splash when touched down at Stan Lee's Comikaze last year. So what better way for her to crash into 2015 than with some beautiful new art? This stunning piece comes to us from illustrator Chris Williams and colorist Ula Mos. Click the image to download the HD version!
Pencils by Chris Williams – Deviant Art | Twitter
Inks and colors by Ula Mos – Deviant Art | Facebook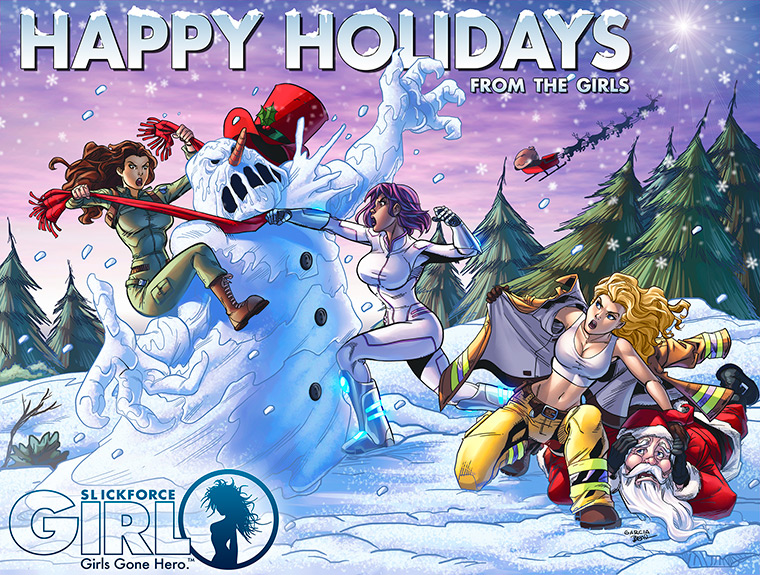 The holidays have arrived, and our Girls would like nothing more than to sit by the fire sipping hot cocoa. But it's not in the cards this year, as there is still plenty of work to be done (like saving Santa).
Enjoy this beautiful action-packed Christmas-themed art by illustrator Eduardo Garcia and colorist Danielle St. Pierre. Let's hope our heroes survive this epic winter battle so they can bring you more cheer in the New Year.
It's been an exciting 2014 for the SlickforceGirl team, and owe so much of that to you. Wishing each and every one of you a wonderful holiday season!
Pencils & Inks by Eduardo Garcia – Deviant Art | Facebook | Twitter
Colors by Danielle St. Pierre – Deviant Art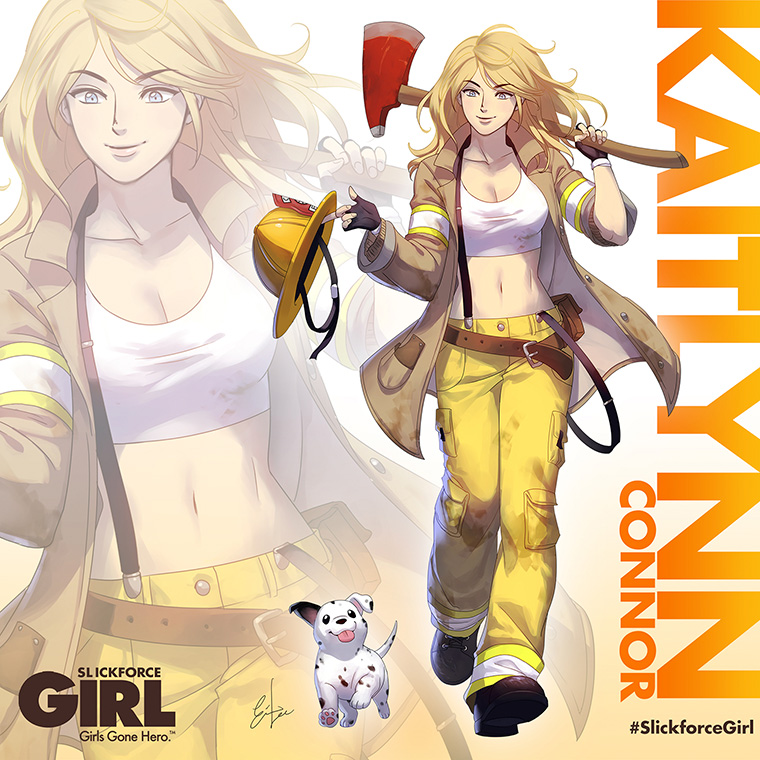 It's always exciting to work with amazing artists from across the world. This time, we've got a new character piece of our heroic firefighter Kaitlynn with her dalmatian, by the our resident anime genius, Ein Lee. Click on the image to download the HD version!
Art by Ein Lee – Deviant Art | Website
Hey there, SlickforceGirl fans. I just got this behind-the-scenes video back from our editor and couldn't wait to feature it on the blog. The video is from this year's Stan Lee's Comikaze and, as you can see, we had a total blast hanging out with all of you, and our girls made so many new friends. Looking forward to next year's convention and all the awesome adventures it will bring! Until then, enjoy this backstage-pass video featuring SlickforceGirls Brittany and Erika, as well as artist Corey Knaebel and writer Stephanie Jones.
~ Corey Stevenson