While our first six heroes are out saving the world, Melanie Iglesias is getting ready for her SlickforceGirl shoot. She'll be joining the fight as Marine Melanie, but before she does, she must gear up and prepare for battle. Special thanks to our military advisor Will Huang and Independent Studio Services for letting us play in their ultimate prop shop. Stay tuned for more from Marine Melanie!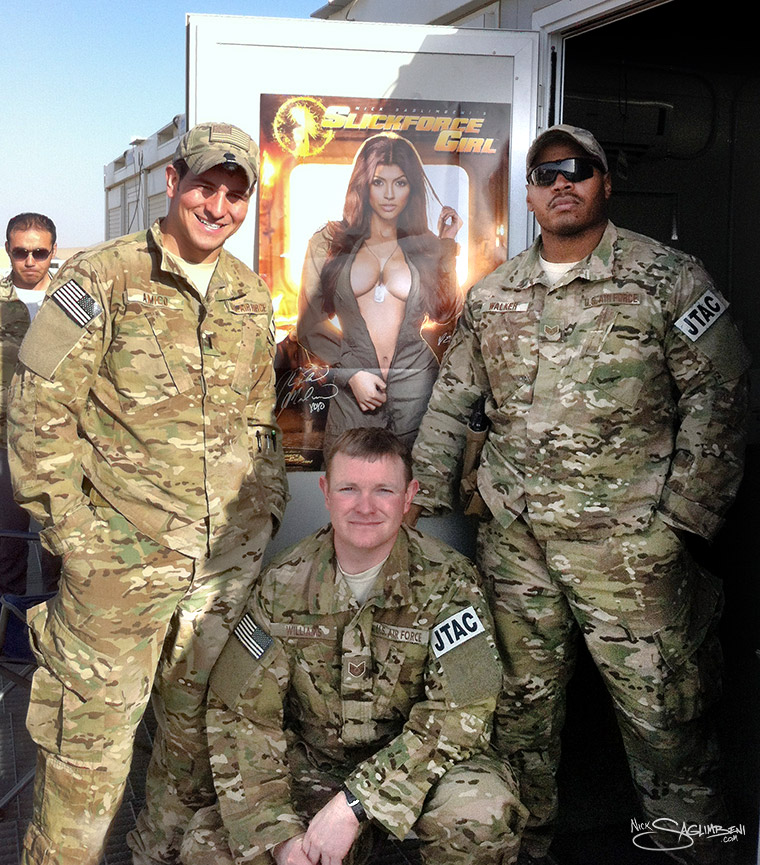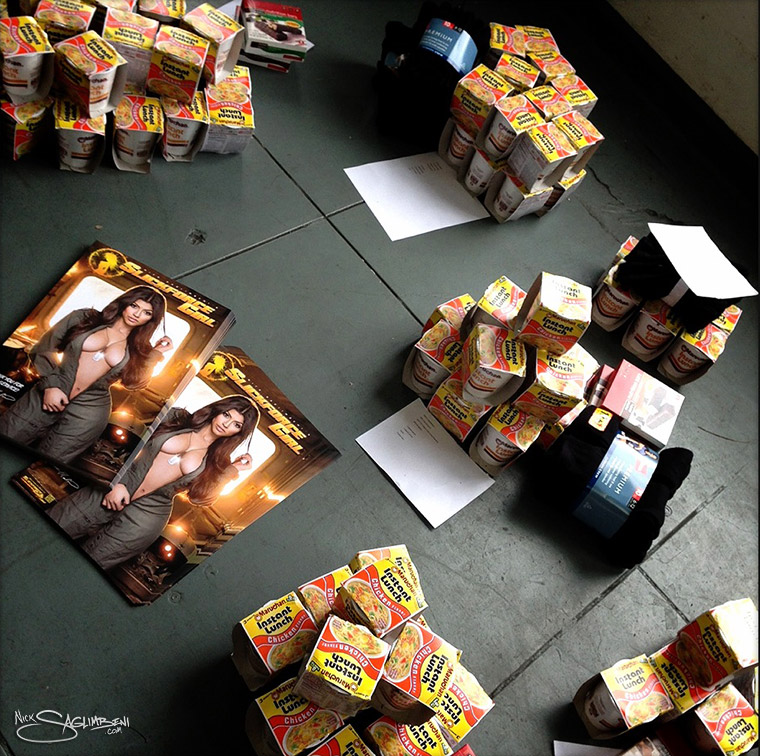 In early December, the SlickforceGirl team reached out to several battalions of deployed U.S. troops overseas to find out what items they needed in the field. Our team put together more than a dozen care packages and shipped them out just before Christmas. Over the last few weeks, we've begun to receive confirmations of package arrivals in various destinations—many of them delivered by helicopter to the most remote of locations—including this photo from an undisclosed Air Force base in Afghanistan. It shows Airman Amico and two of his fellow airmen, cheered on by SlickforceGirl Erika. Our heartfelt thanks goes out to the men and women who risk their lives everyday for others. Your bravery in the most dangerous situations continues to inspire us, and it is a sobering reminder of just how many freedoms we take for granted as civilians. Be safe, and we wish you a speedy journey home.
[caption id="attachment_510" align="aligncenter" width="560" caption="Try me."]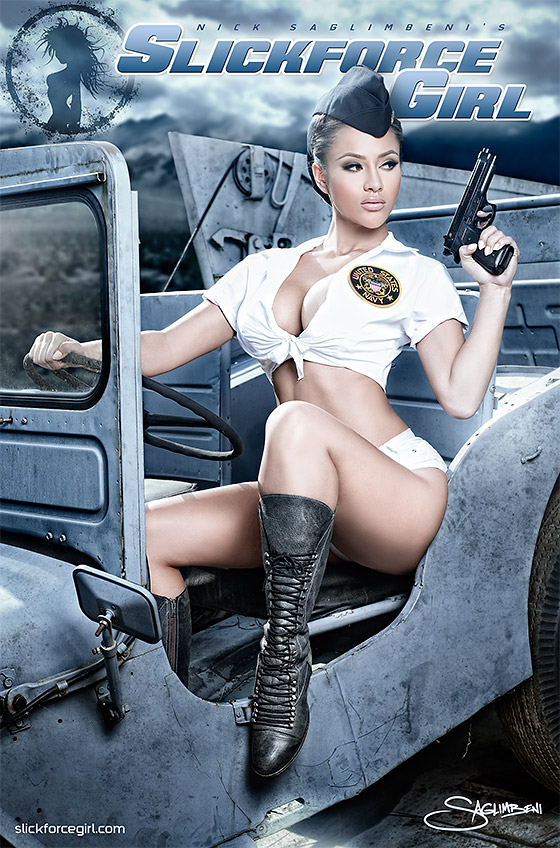 [/caption] Naval Commander Brittany surveys the landscape. Some say she's keeping a watchful eye, others might venture she's looking for trouble. Either way, you don't want to end up on her bad side. Join Brittany,
Erika
,
Vanessa
and the other SlickforceGirls in the fight against breast cancer. Brittany's Limited Edition action posters arrive January 1.
Be the first to get them here
!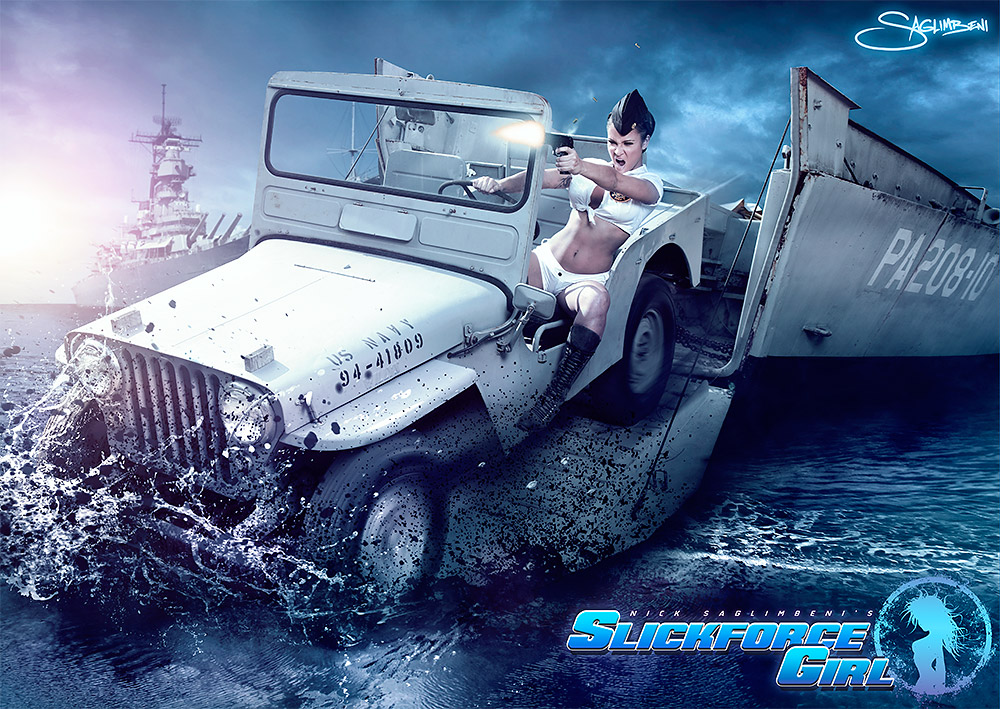 All is quiet on the Western Front. That is, until Navy Commander Brittany crashes to shore. Model Brittany Dailey joins the cast of SlickforceGirl as she springs into action to help fellow heroes Erika & Vanessa. Pre-order Brittany's explosive Collector's Poster
right here
, and a portion of your purchase will go to help the fight against breast cancer. Stay tuned for more adventures—including wild new photos and videos—from our power-packed team right here at
SlickforceGirl.com
!
CREDITS:
Photography by
Nick Saglimbeni
Make-up by
Gaby Ramos Torell
Hair by
Al Ingram
Wardrobe Styling by
Sarah Ellis & Amanda Carter
SlickforceGirl: Behind the Scenes with Erika Medina from Nick Saglimbeni on Vimeo.
Here's a cool behind-the-scenes look at the making of Erika Medina's SlickforceGirl shoot. What a fun (and cold) day this was! Thanks to Erika for being such a trooper during the shoot, and to the entire SlickforceStudio team who helped us pull off this dynamic concept. See the finished shots from Erika's SlickforceGirl shoot
here
. And order the Erika's Collector's Edition "Unzipped" 24x36 wall poster
right here
before they're gone!
CREDITS:
Photography by
Nick Saglimbeni
Make-up by
Gaby Ramos Torell
Hair by
Al Ingram
Wardrobe Styling by
Sarah Ellis & Amanda Carter
Cinematography by
David A. Rivera
for
SlickforceStudio
Edited by
Daniel U. Magana
for
SlickforceStudio
When Air Force Airman Erika isn't busy saving the world, she's thanking real heroes who fight for freedom every day. This Veteran's Day, Erika salutes the troops by with this special unzipped version of "Thank you for your service." The Airman Erika pin-up image is now available as a stunning limited edition 24"x36" poster. A portion of profits from poster sales will be donated to the 
Special Operations Warrior Foundation
, which helps wounded veteran's and their families within the U.S. Special Forces community, including Army Green Berets, Navy SEALs, Air Force Combat Controllers and Marine Corps special ops personnel. Pre-order the poster now at 
SaglimbeniStore.com
 and receive it before the holidays. Ships worldwide.