Archive for the 'Wallpapers' Category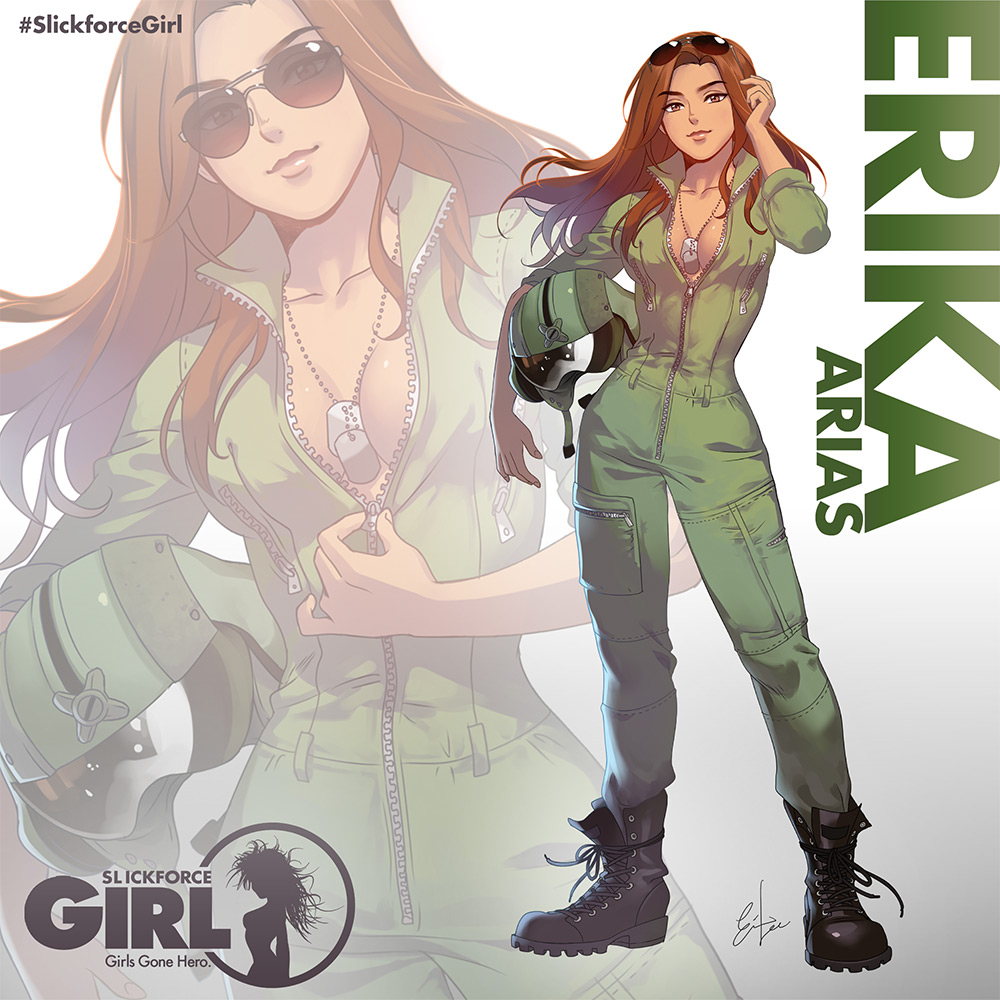 That's right, our Airman Erika is back and ready action—and this time she's armed with a last name! Here's an anime-style character rendering of everyone's favorite pilot, Erika Arias, drawn by the wonderfully gifted Ein Lee. Here's a reminder to come by the SlickforceGirl booth at Comikaze on Halloween weekend. Catch us on Facebook and Instagram, and stay tuned for more awesome art leading up to the show! Art by Ein Lee -
Deviant Art
|
Website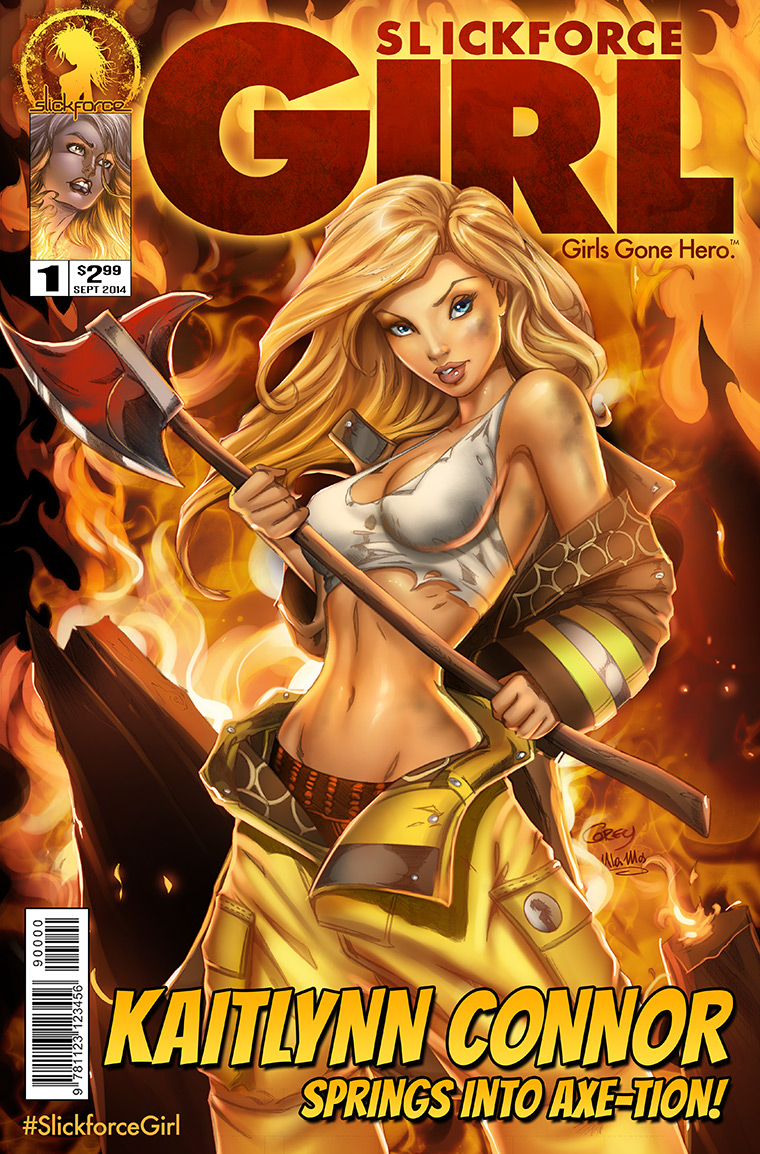 This is the part where I say, "Is it hot in here or is it just me?" Hey guys, I hope you're enjoying the new SlickforceGirl illustrated pieces we've been releasing over the last few weeks. As a lifetime comic-book art fan, I couldn't be more excited to work with so many wickedly-talented artists from across the globe. This Kaitlynn piece is particularly special for two reasons: 1) Because it is beautifully drawn by the brilliant team of illustrator Corey Knaebel and colorist Ula Mos, and 2) it's the first reveal of our brave firefighter's last name — Meet Kaitlynn Connor. I'm also excited to announce that artist Corey Knaebel will be joining us at our booth at
Stan Lee's Comikaze
. Here is a look back at Kaitlynn's live-action shoot below, played by the lovely Kaitlynn Carter. Stay tuned to
SlickforceGirl.com
for more art, new heroes, and upcoming appearance info! -Nick Pencils by Corey Knaebel -
Deviant Art
|
Website
|
Facebook
Inks and colors by Ula Mos -
Deviant Art
|
Facebook
The Making of SlickforceGirl: Firefighter Kaitlynn from Nick Saglimbeni on Vimeo.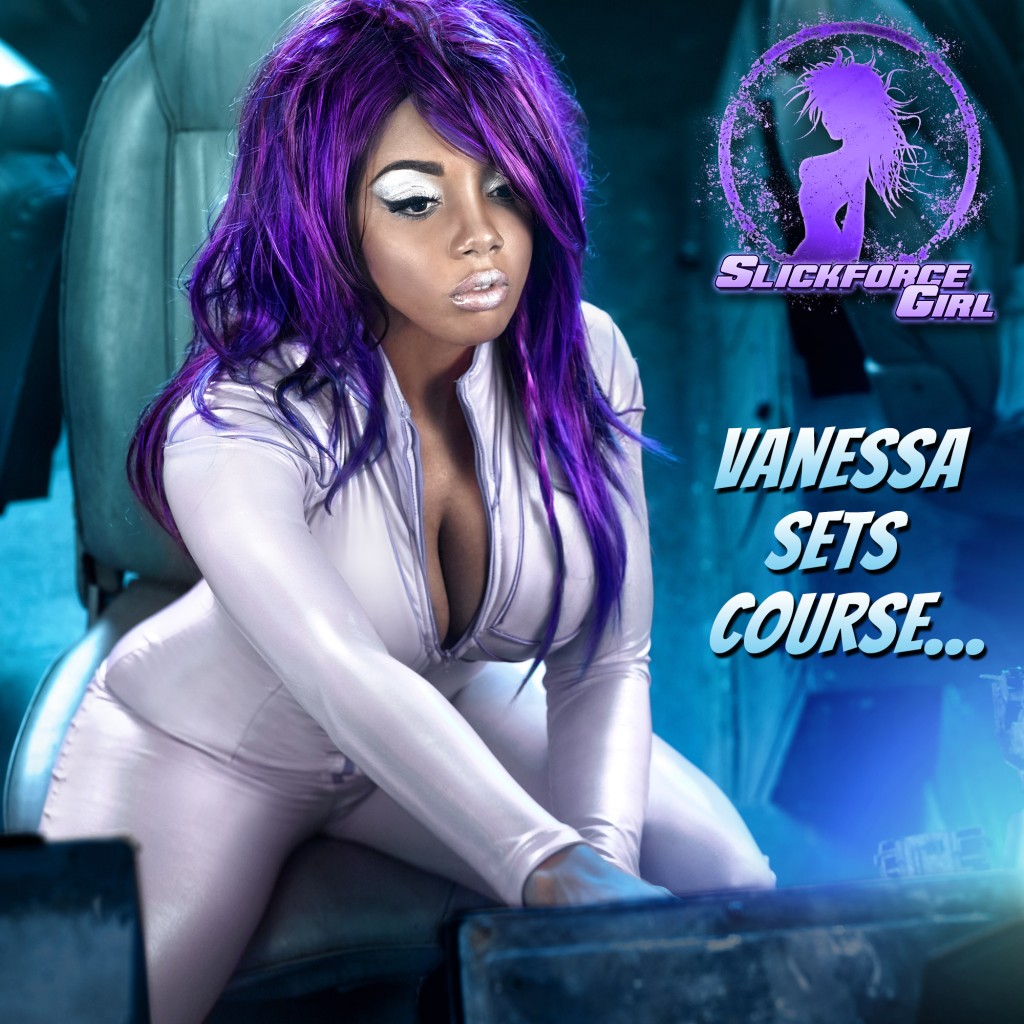 Our stunning space explorer is heading out on a new mission... but where is she going?? Stay tuned to find out. Photo:
NICK SAGLIMBENI
Model: VANESSA VEASLEY Hair: AL INGRAM Makeup: GABY RAMOS Styling: DIANA CHAN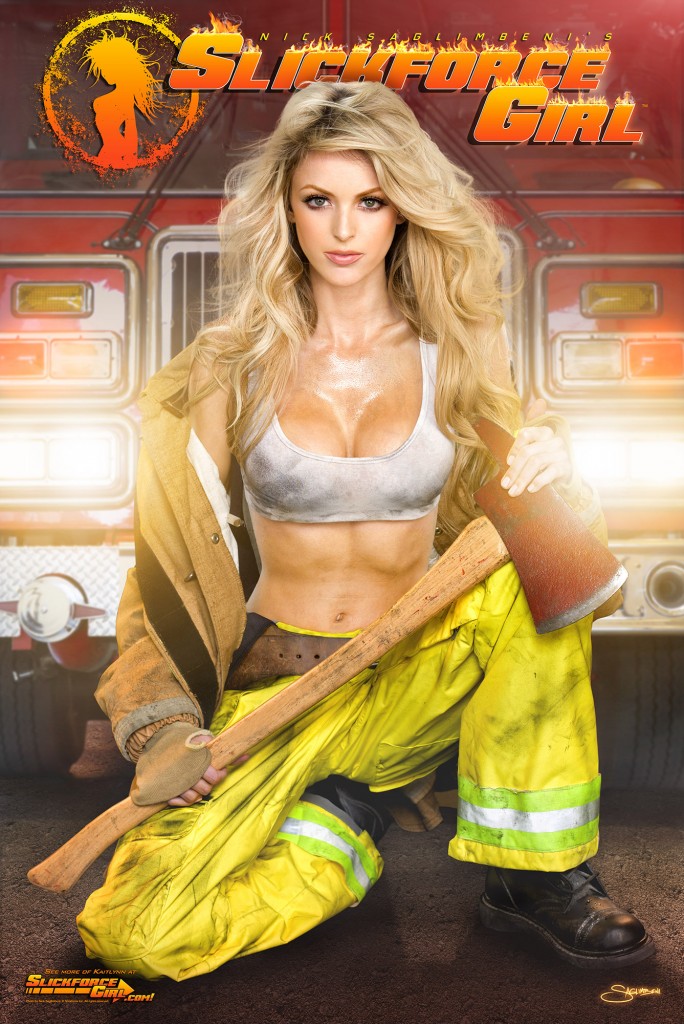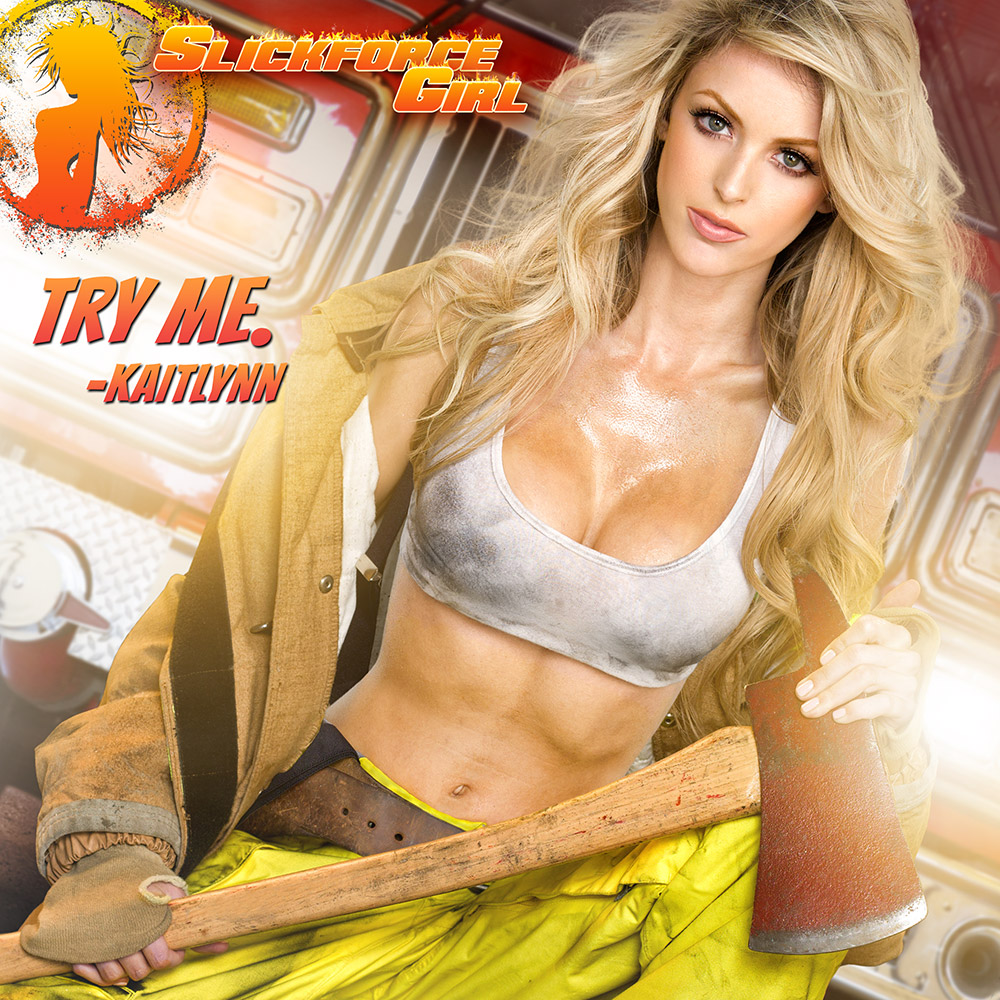 Don't let the blonde hair fool you. You'd have to be pretty stupid to mess with this axe-wielding action hero. Firefighter Kaitlynn rescues those in need everyday, and she certainly doesn't need anyone standing in her way. See more from Kaitlynn in the
SaglimbeniStore
, and if you haven't seen it yet, be sure to watch model Kaitlynn Carter suit up for SlickforceGirl in this behind-the-scenes video below!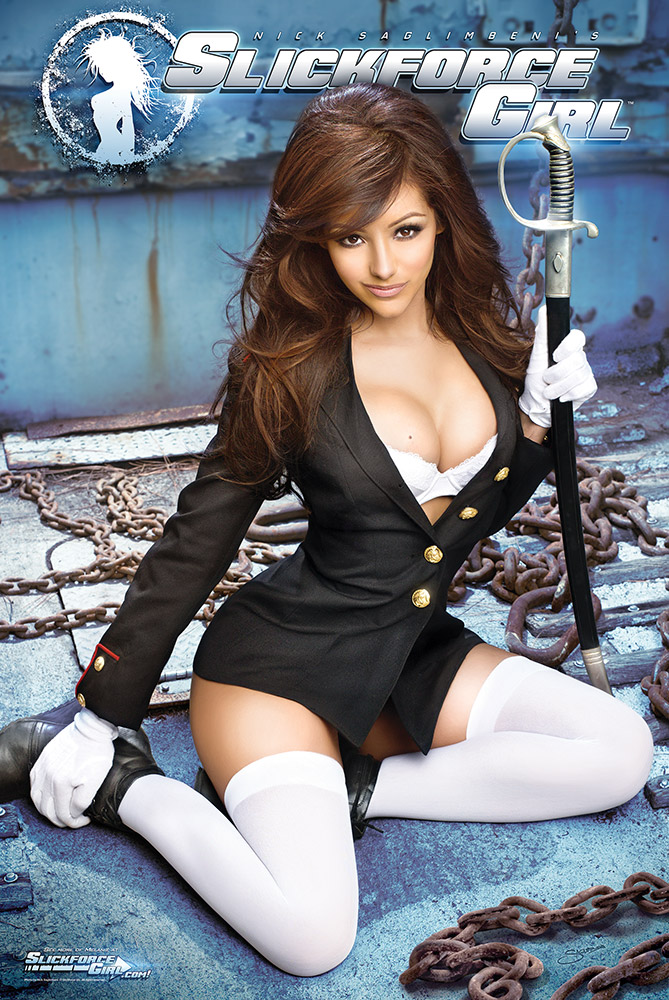 As America gears up for Memorial Day weekend, the SlickforceGirl team has decided to commemorate the holiday with much-anticipated new releases featuring fan-favorite Melanie Iglesias. Pre-order your
24"x36" Marine Melanie Collector's Wall Poster
before May 29, and Melanie Iglesias will autograph them—personalized to the recipient. And for the die-hards, we've got a
Marine Melanie SuperFan Combo Pack
that contains the 24x36 wall poster, a Charcoal Gray Marine Melanie SlickforceGirl T-Shirt, a Limited Edition 11x17 care-package poster, all in one set. Wishing everyone a happy and safe holiday weekend. In the coming week, we take the time to remember those who have lost their lives in the fight for freedom. You are the real heroes, and the SlickforceGirl team salutes you!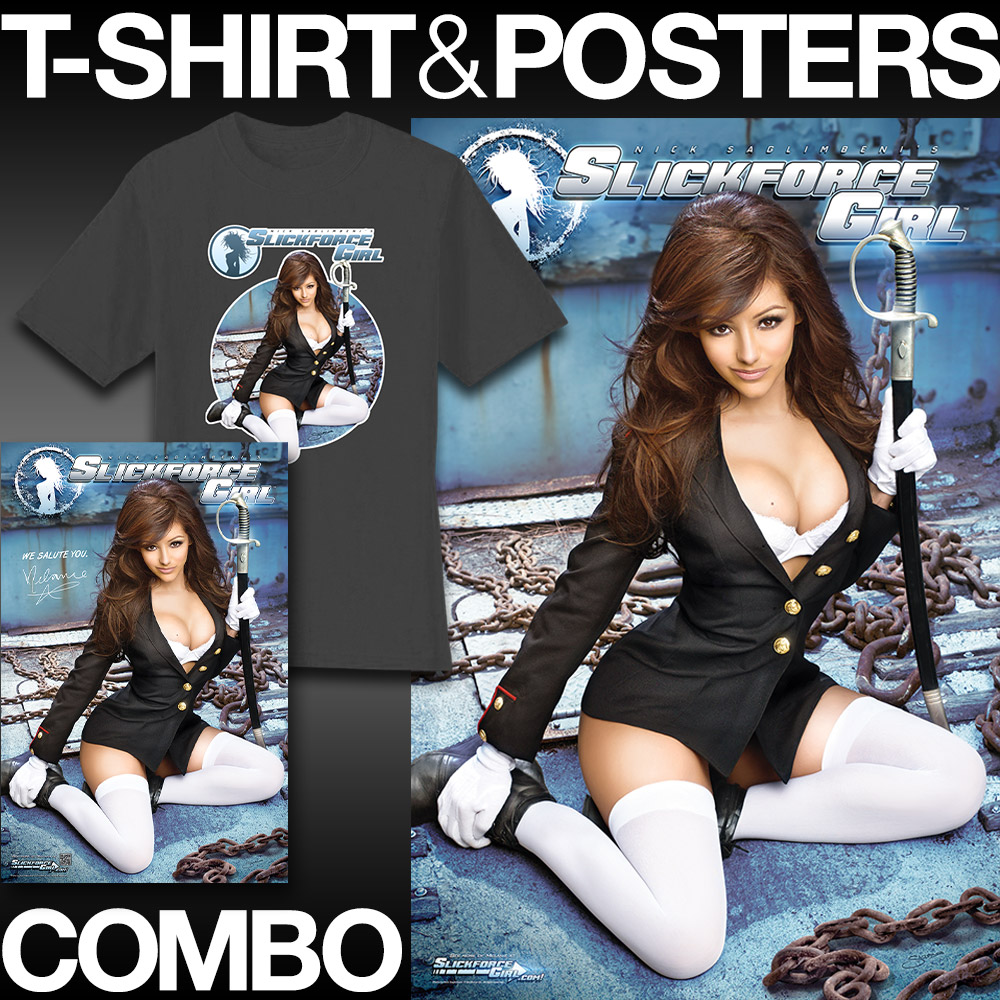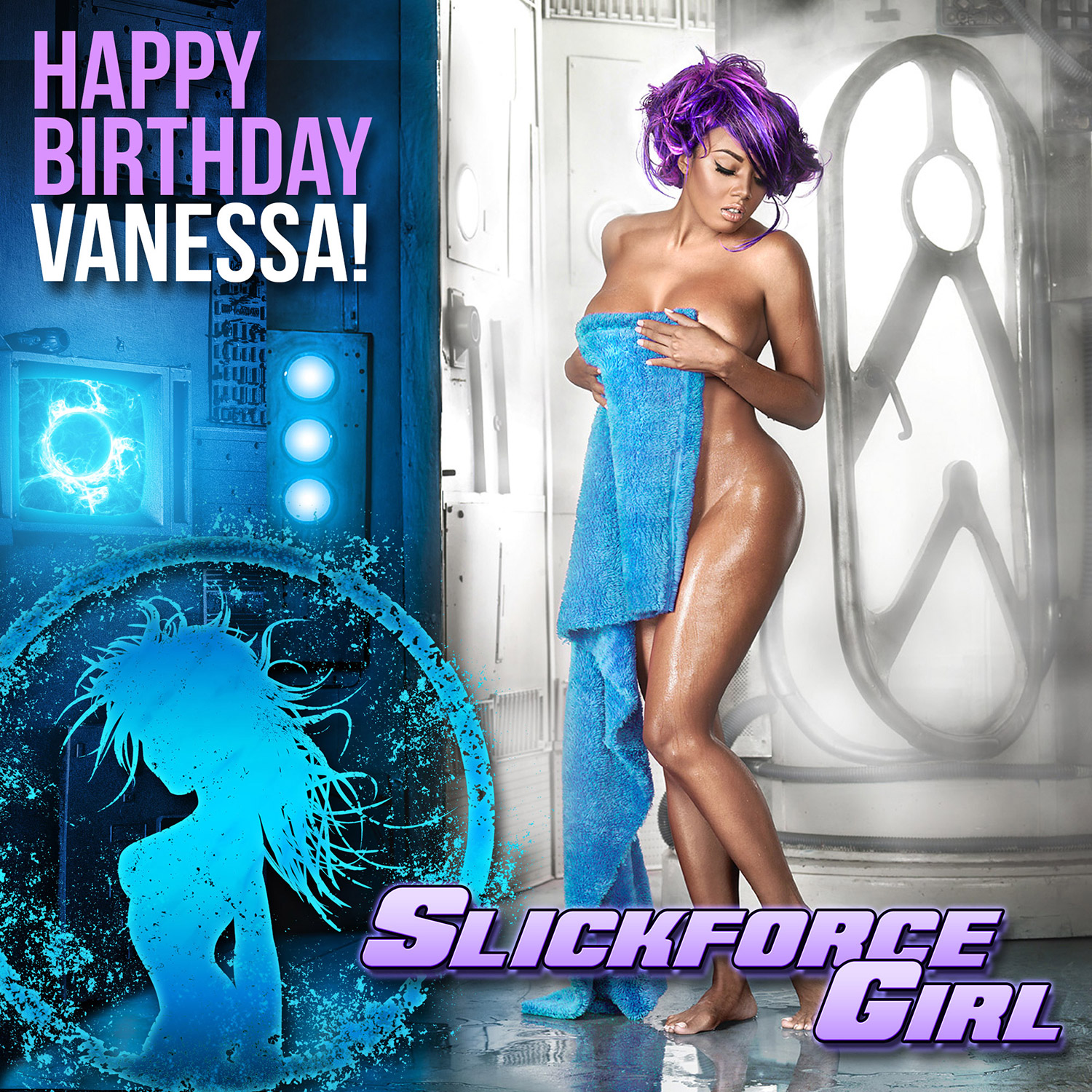 Today is model Vanessa Veasley's birthday, so what better time to release a new image of her doppelgänger Astronaut Vanessa? Our sexy SlickforceGirl astronaut has just popped out of her space shower, but hasn't quite squeezed back into her suit yet. Luckily for you, our space paparazzi were nearby to capture this rare image. Happy Birthday Vanessa!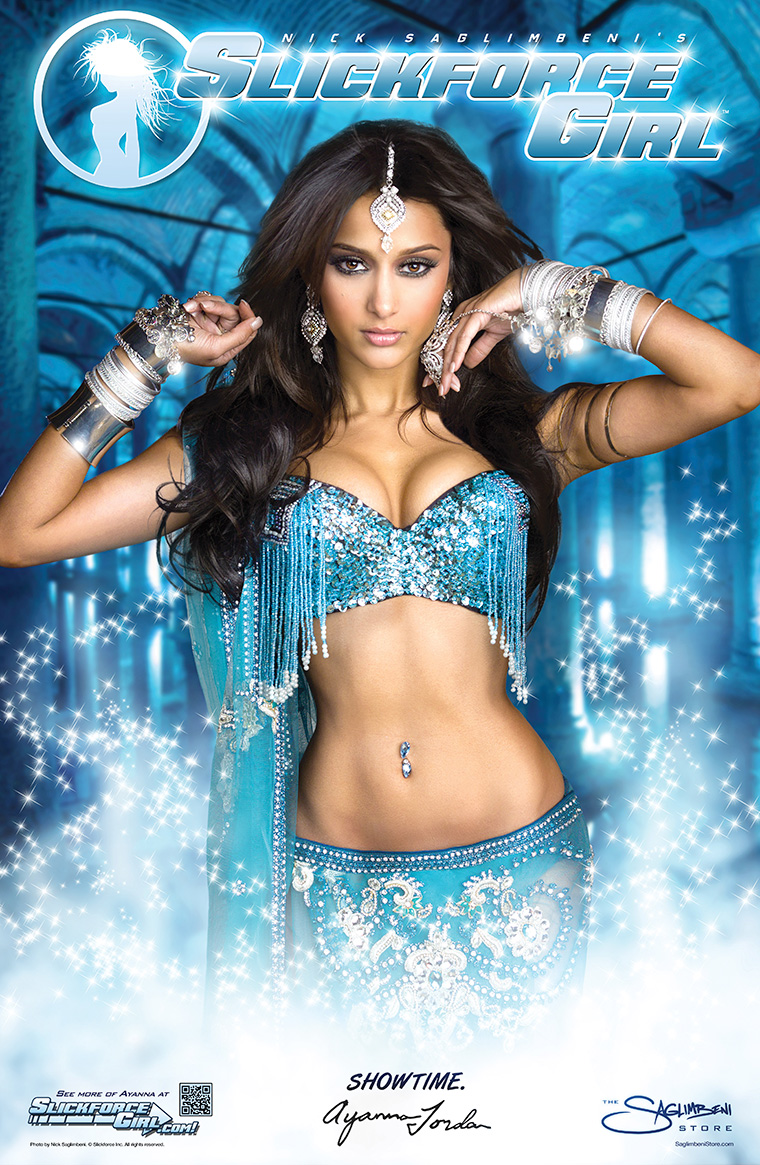 [nggallery id=5] In early November, SlickforceGirl made its first public appearance at Stan Lee's Comikaze Convention in Los Angeles. We commemorated this special occasion with the release of our sixth SlickforceGirl, Ayanna. Our resident Indian Princess might be the most petite of our heroes, but consider this fair warning that looks can absolutely be deceiving. Though not much is known about Ayanna's abilities, rumors of mysticism and magic are enough to keep us on her good side. Collect 
Princess Ayanna's Limited Edition 11×17 poster
, along with our other heroes, at 
SaglimbeniStore.com
. As with the other posters, a portion of your purchase will go to help the fight against breast cancer. Visit 
SlickforceGirl.com
 for more info! Enjoy these behind-the-scenes images of Ayanna's shoot taken by the amazing Joyce Park!
CREDITS: 
Model: 
Ayanna Jordan
Photography by 
Nick Saglimbeni
Make-up by 
Therese Williams
Hair by 
Al Ingram
Styling by 
Diana Chan
Production Stills by 
Joyce Park
 for 
SlickforceStudio