Archive for the 'Teaser Images' Category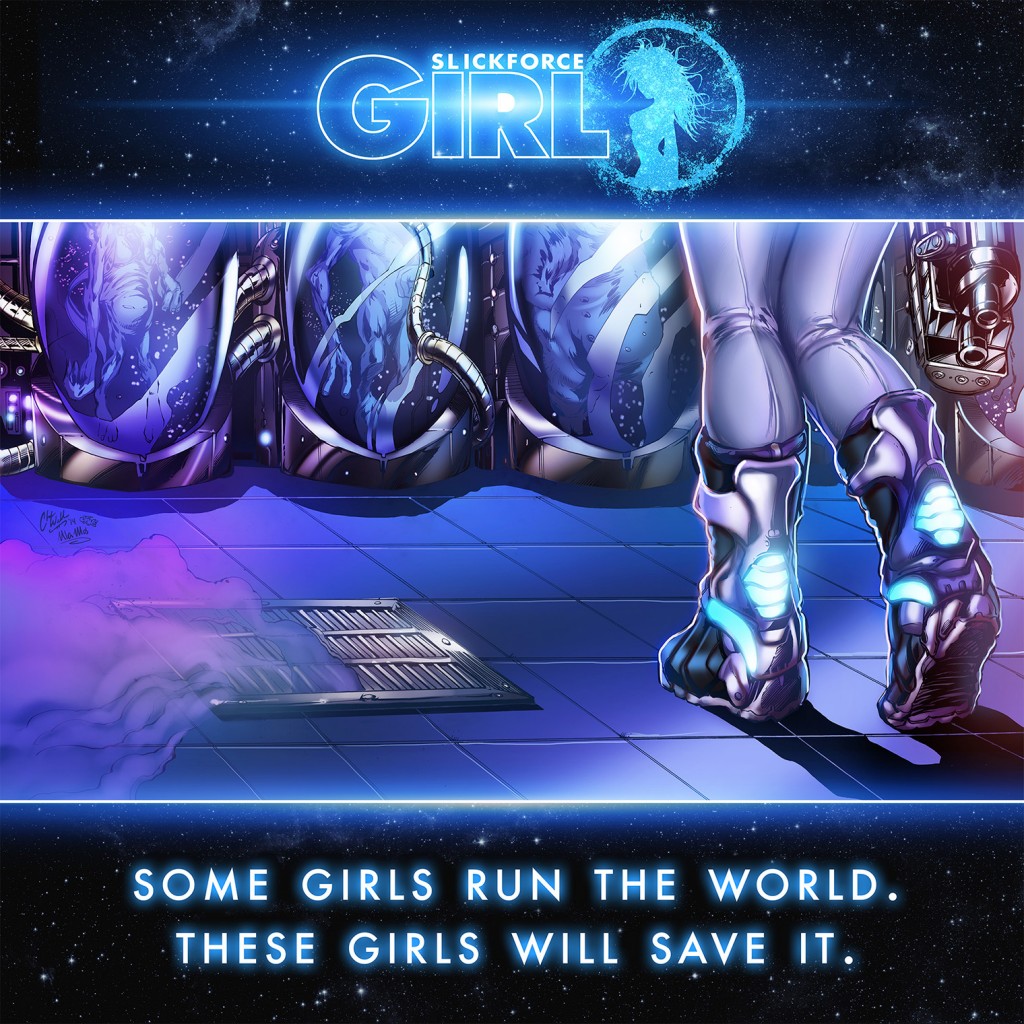 It's official: SlickforceGirl will be at Stan Lee's Comikaze this year in Los Angeles.
Be sure to come by and meet the team from October 31 thru November 2, and stay tuned for a special announcement! Learn more about Stan Lee's Comikaze here, and special thanks to these amazing artists for this beautiful illustrated teaser!
Pencils: CHRIS WILLIAMS
Inks: JAKE ISENBERG
Colors: ULA MOS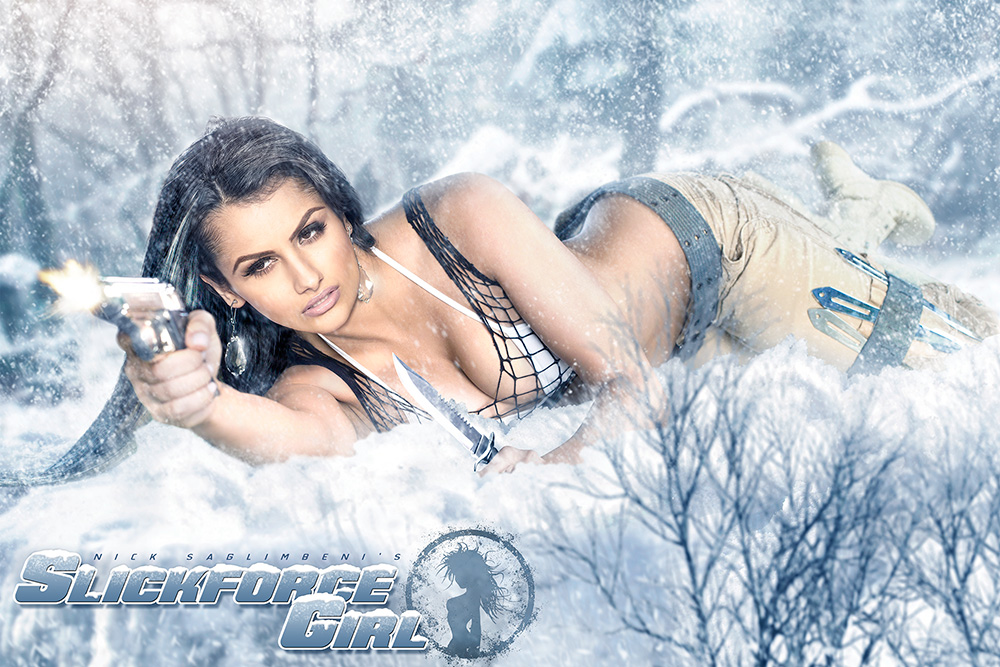 SlickforceGirl Nazanin is a cool cat. So cool, in fact, she might just give you frostbite. But don't let her seductive looks fool you—cross this stunning superspy and she'll take you out in your sleep. Either way, we're just glad she's on our side...we hope. Stay tuned for more from this blizzard-dwelling beauty.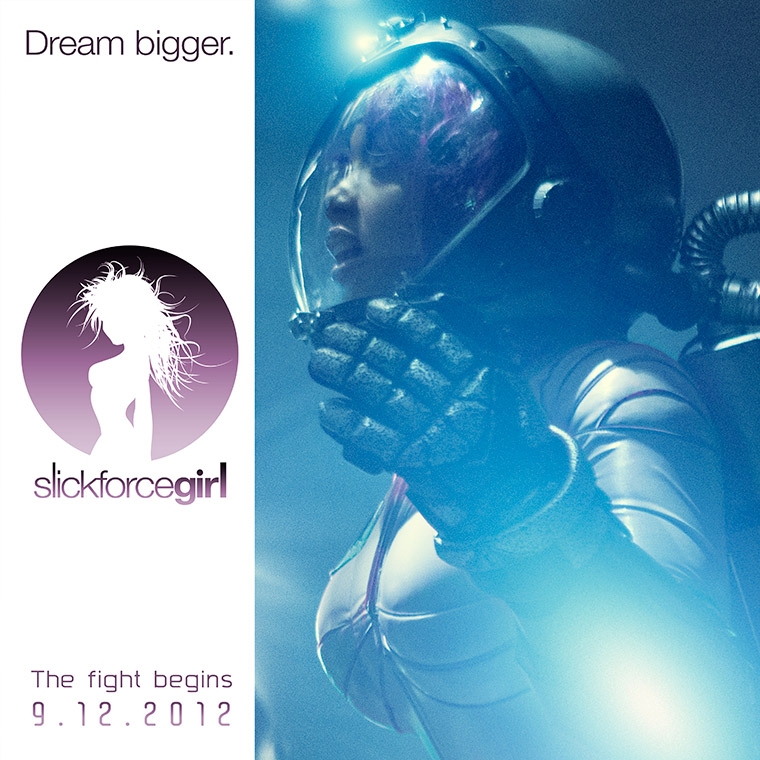 And alas, the last of our heroes is revealed. Ironically, Vanessa was the first model I cast and photographed for SlickforceGirl. Though best known for her jaw-dropping curves, I knew Vanessa as an avid space nerd, and I decided this was a character she could effortlessly jump—or moonwalk—into.
As our first SlickforceGirl, Vanessa ventured with me into the unknown. To prepare for her role, she endured weeks of rigorous preparation, including costume tests, prop hunting, and, yes, even wire-harness stunt training.
Photo by Joyce Park for SlickforceStudio
Hair by Al Ingram
Make-up by Gaby Ramos Torell
Styled by Diana Chan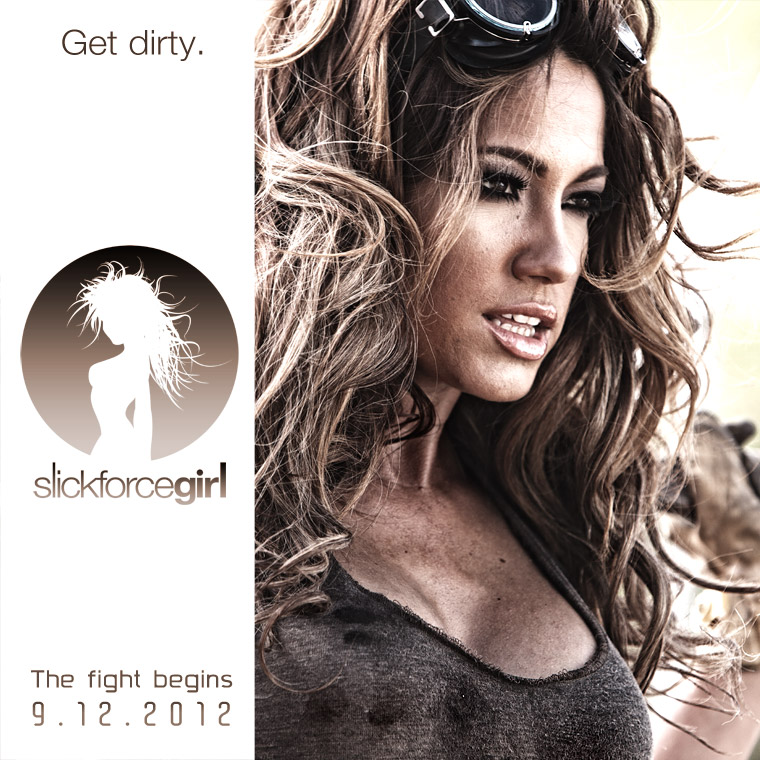 If you've never seen Jessica Burciaga before, then you probably live on Mars. This Southern California beauty has armies of fans from Reno to Russia, and now she's bringing her starlet super-powers to SlickforceGirl. At her shoot in the blazing hot Mojave desert, Jessica had to get down and dirty for this gritty role. But she weathered the scrapes and bruises without batting an eyelash, knowing it was for a good cause.
Much more to come from Ms. Burciaga and the rest of the ladies over the coming months. Stay tuned right here at SlickforceGirl.com for all the updates!
Photo by Joyce Park for SlickforceStudio
Hair by Al Ingram
Make-up by Therese Williams
Styled by Diana Chan
[caption id="attachment_1999" align="aligncenter" width="760"]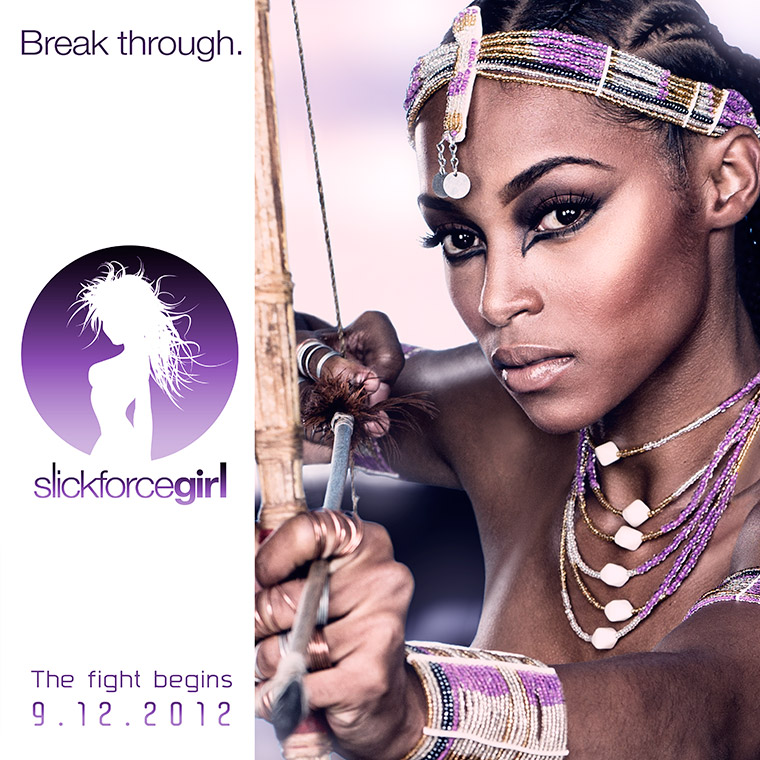 This might sting a bit.[/caption]
From NickSaglimbeni.com:
Certain journeys change you forever. For me, among those journeys are my travels to Kenya. So many of the people I met there possessed a warmth and strength in spirit that I have rarely seen, and I ended up making friends I'm certain I will keep for life.
When I set out to create the SlickforceGirl team, I knew that one of the characters must be Kenya-inspired. It would take someone with an equally strong heart to play the role, and I found just what I needed with model Kersti Pitre. South Africa-born and Southern California-raised, Kersti experienced her very first shoot right here at Slickforce only a few years ago. Now, get ready for her to impress viewers with her range as she tackles one of the toughest heroes of the bunch.
A very special thanks goes out to the women of the Mama Saruni Masai in Amboseli, Kenya, for hand-crafting Kersti's jewelry, and to my very good friend Ali Khan of Vumbi Jeep Safaris for coordinating our trans-Atlantic operation.
See more of Kersti and our other heroes at SlickforceGirl.com!
Photo by Joyce Park for SlickforceStudio
Hair by Ganohon Aline Ansansame
Make-up by Therese Williams
Styled by Diana Chan
Jewelry hand-crafted in Amboseli, Kenya by the Mama Saruni Masai Women's Group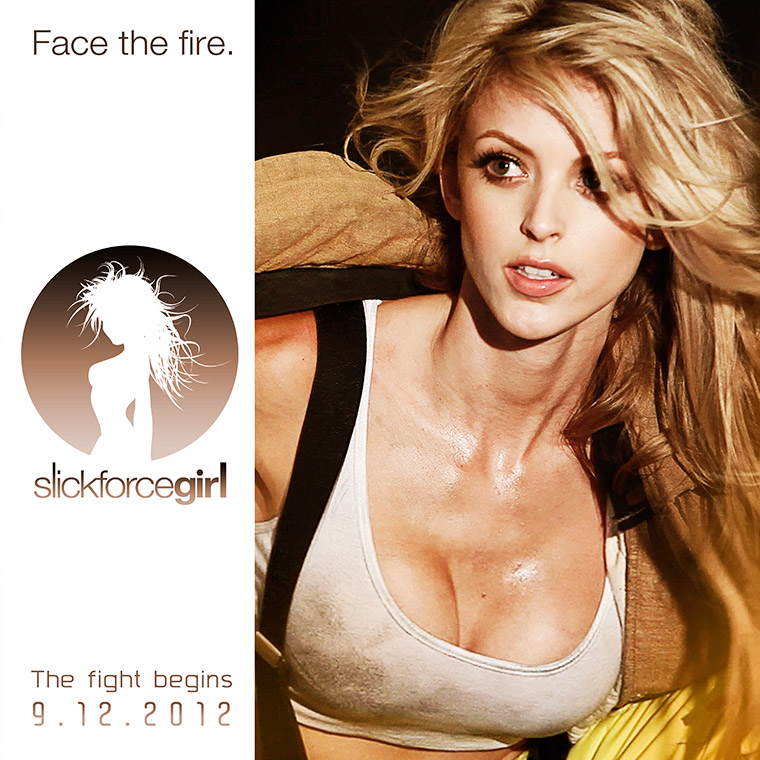 When I couldn't find just the right model for this heroic SlickforceGirl character, I decided to venture away from my usual roster and take a chance on some new talent.  It was Boston beauty Kaitlynn Carter's first time in front of my camera, and she crushed the challenge put before her. Kaitlynn brought grace and sincerity to a role that might have been played too rigid by others. In doing so, she epitomized the true nature of a SlickforceGirl—the perfect balance of courage and beauty. See more from Kaitlynn and our other heroes right here at SlickforceGirl.com!
Photo by Joyce Park for SlickforceStudio
Make-up by Therese Williams
Hair by Al Ingram
Wardrobe styled by Diana Chan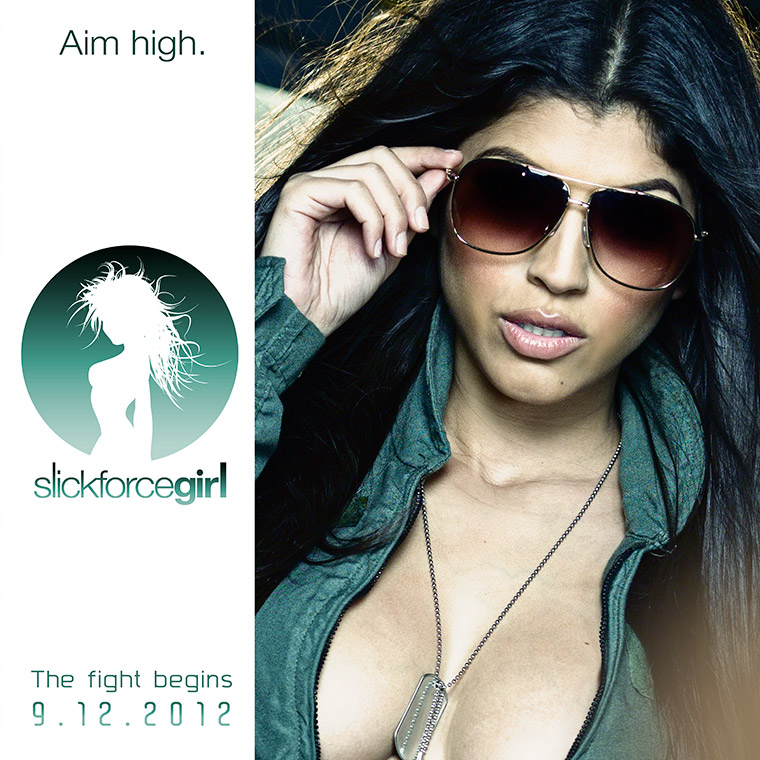 Few models get our fans as excited as Erika Medina. This natural beauty has wowed viewers for years with her magazine covers, sitcom appearances and music video roles. And now, she joins the coveted ranks of our SlickforceGirls with her Top Gun-style teaser. Stay tuned to see what this high-flying knockout has in store as SlickforceGirl accelerates towards launch!
Photo by Nick Saglimbeni
Make-up by Gaby Ramos Torell
Hair by Al Ingram
Wardrobe styled by Sarah Ellis & Amanda Carter