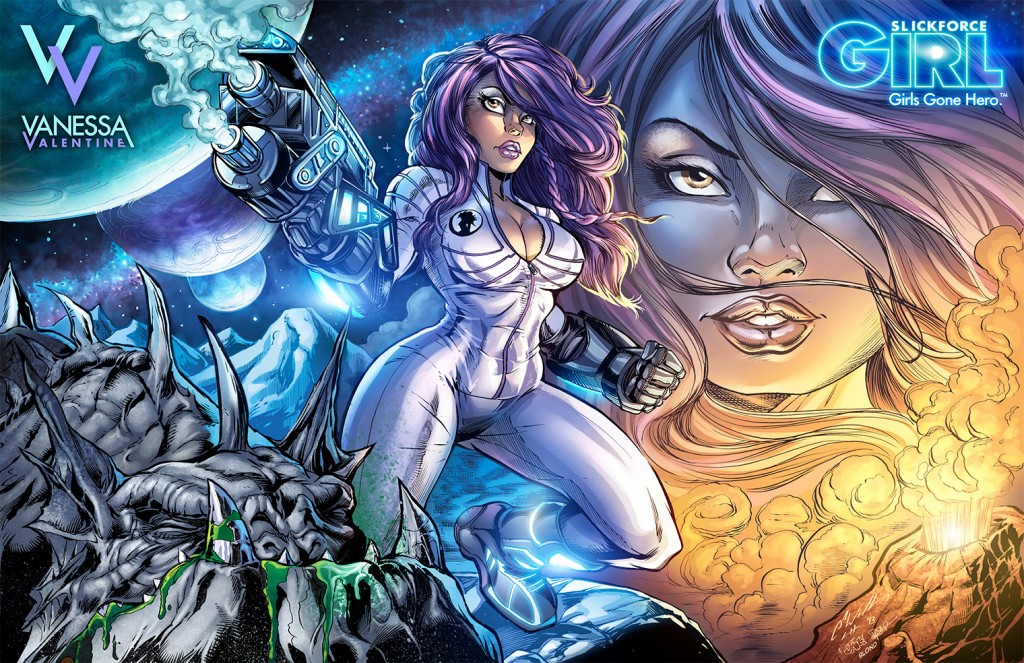 Our space-traveling blerd is back, only this time she's taking no prisoners. Behold this gorgeous new character art by Chris Williams, featuring original SlickforceGirl Vanessa Valentine holding her ground on a foreign world. You may be wondering—what on earth is she doing out there? The answers will come soon enough.
Follow @SlickforceGirl on Facebook and Instagram to unravel the mystery!
Pencils by Chris Williams – Deviant Art | Instagram
Inks by Jake Isenberg – Deviant Art | Facebook
Colors by Danielle St. Pierre & Blond the Colorist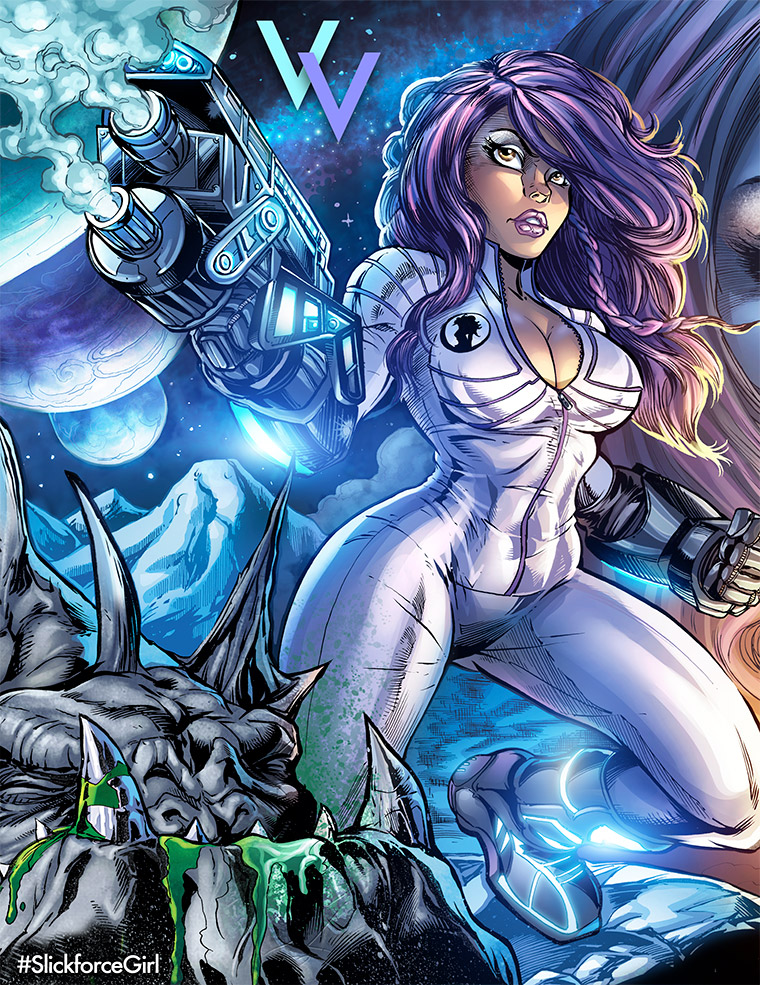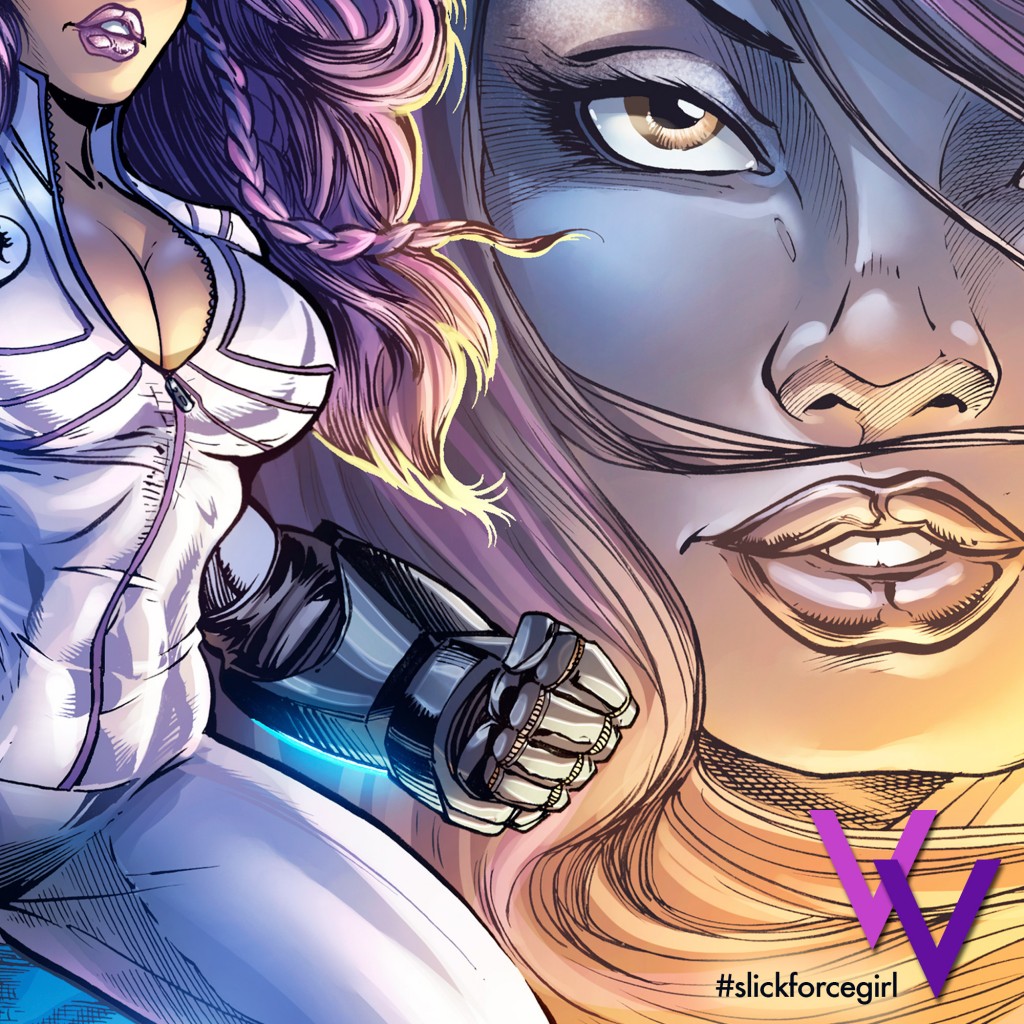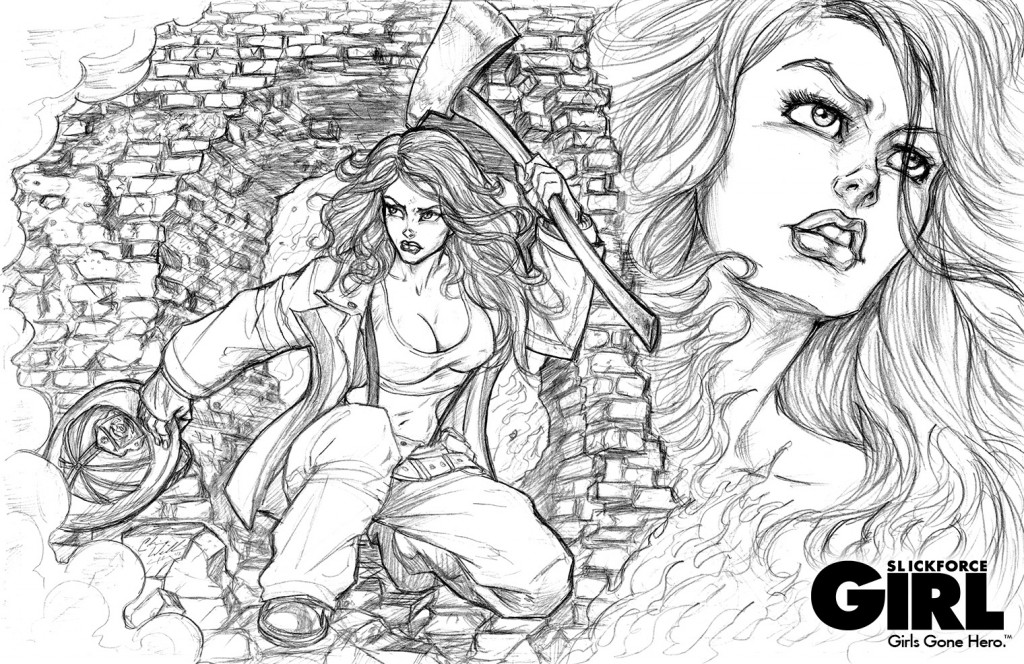 Penciler Chris Williams and inker Jake Isenberg have teamed up on several of our audience favorite Slickforce pieces, so here's a deeper look inside their creative process. Above is the original pencil work from Chris. Below are Jake's Inks. And below that, the final colors rendered by Blond The Colorist.
Want to flex your skills? Click on the inks-only version below for a hi-res copy of the linework, and try your hand at coloring this dramatic scene. Be sure to tag #SlickforceGirl on social media so we can find you!
Pencils by Chris Williams – Deviant Art | Instagram
Inks by Jake Isenberg – Deviant Art | Facebook
Colors by Blond – Deviant Art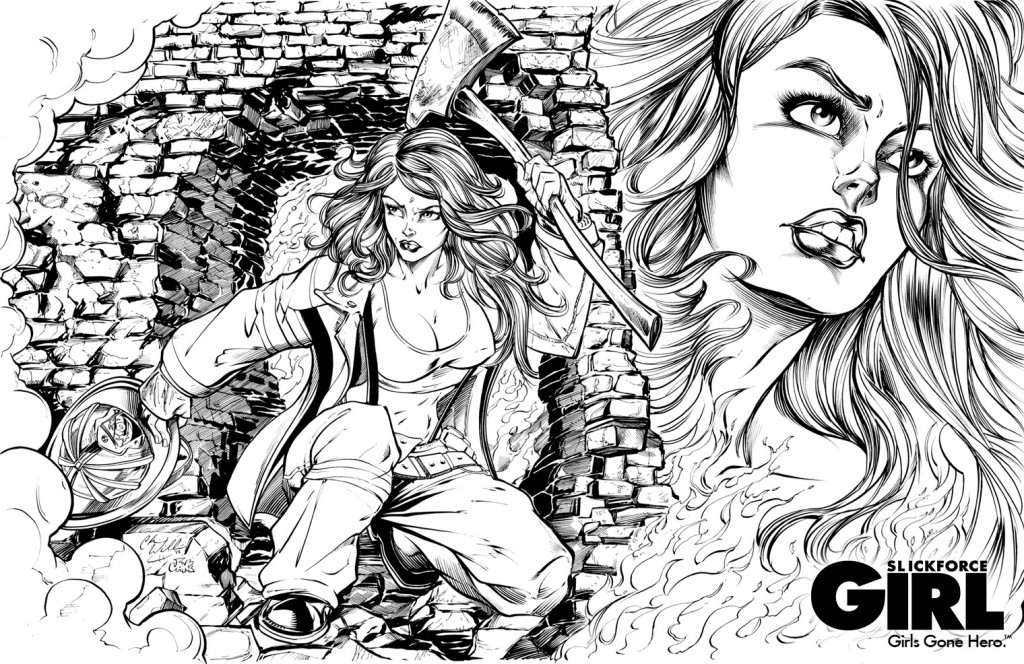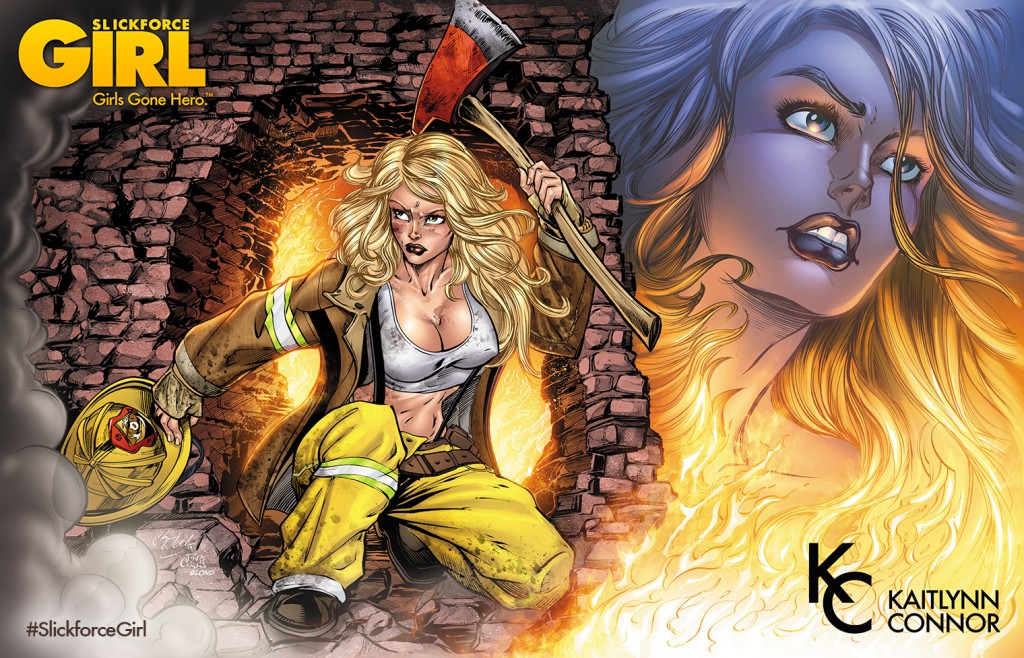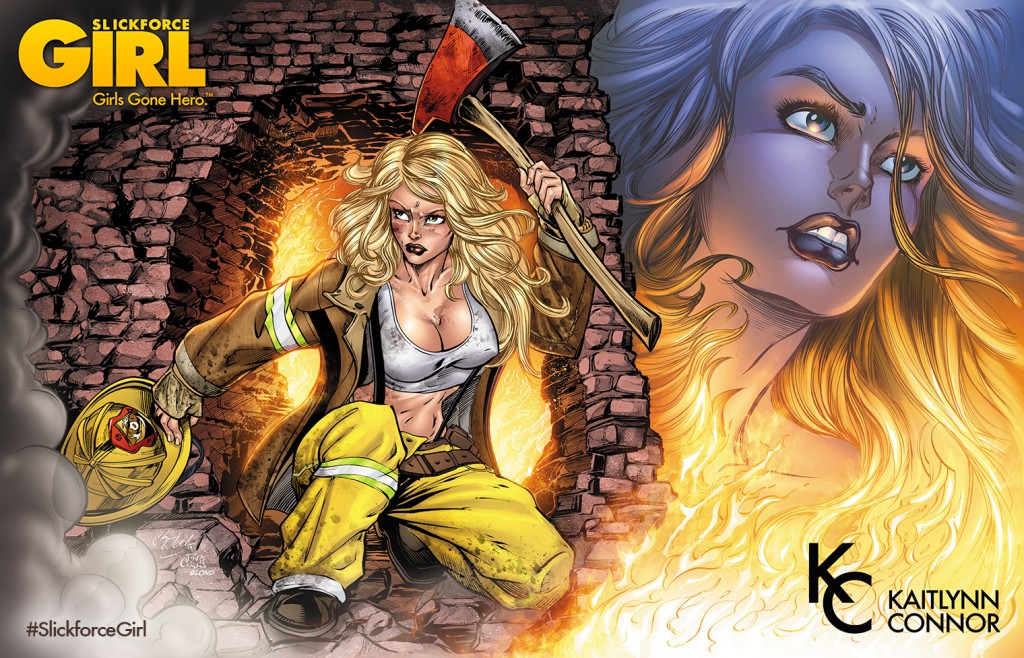 Comikaze is only a few months away, so you know what that means…more Slickforce art is on the way!
Artist Chris Williams has been turning out a steady stream of stunning character pieces for the SlickforceGirl tribe this year. Here is his latest work featuring firefighter Kaitlynn Connor as she braves the inferno. This is our first time working with colorist Blond who did an incredible job capturing the warm/cool contrast, and we'll post the standalone inks by Jake Isenberg in a future entry so you can fully appreciate them.
Click the image above for full HD version, and be sure to follow us on Instagram and Facebook for exclusive teasers, videos and news!
Pencils by Chris Williams – Deviant Art | Instagram
Inks by Jake Isenberg – Deviant Art | Facebook
Colors by Blond – Deviant Art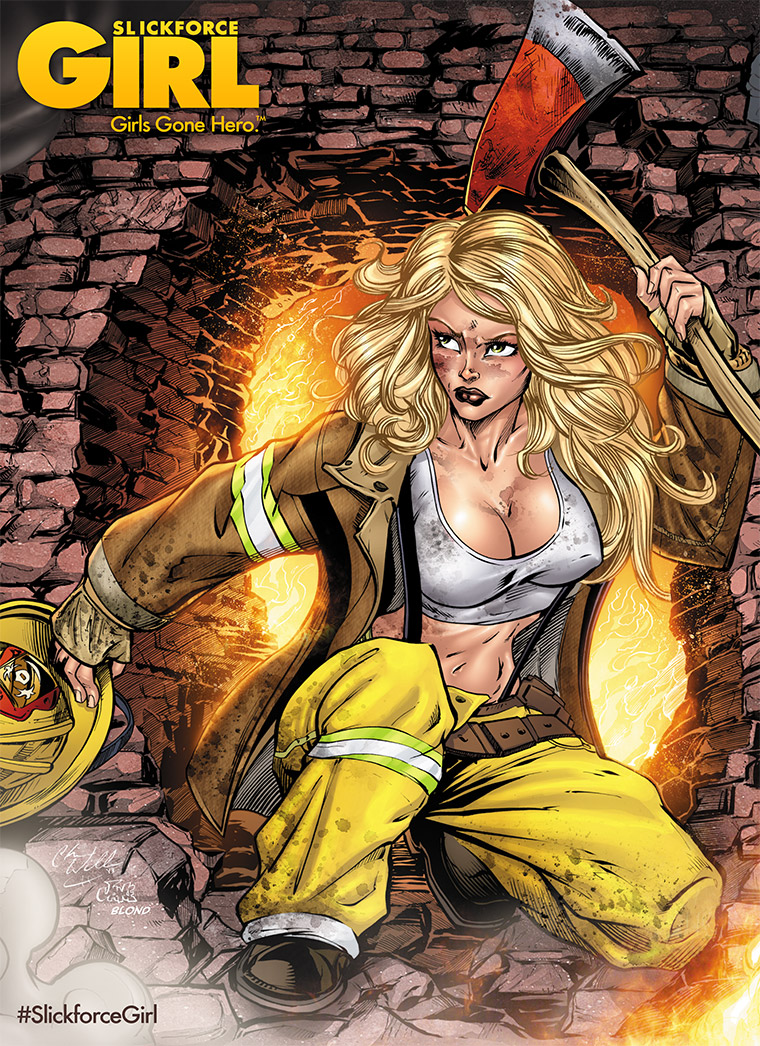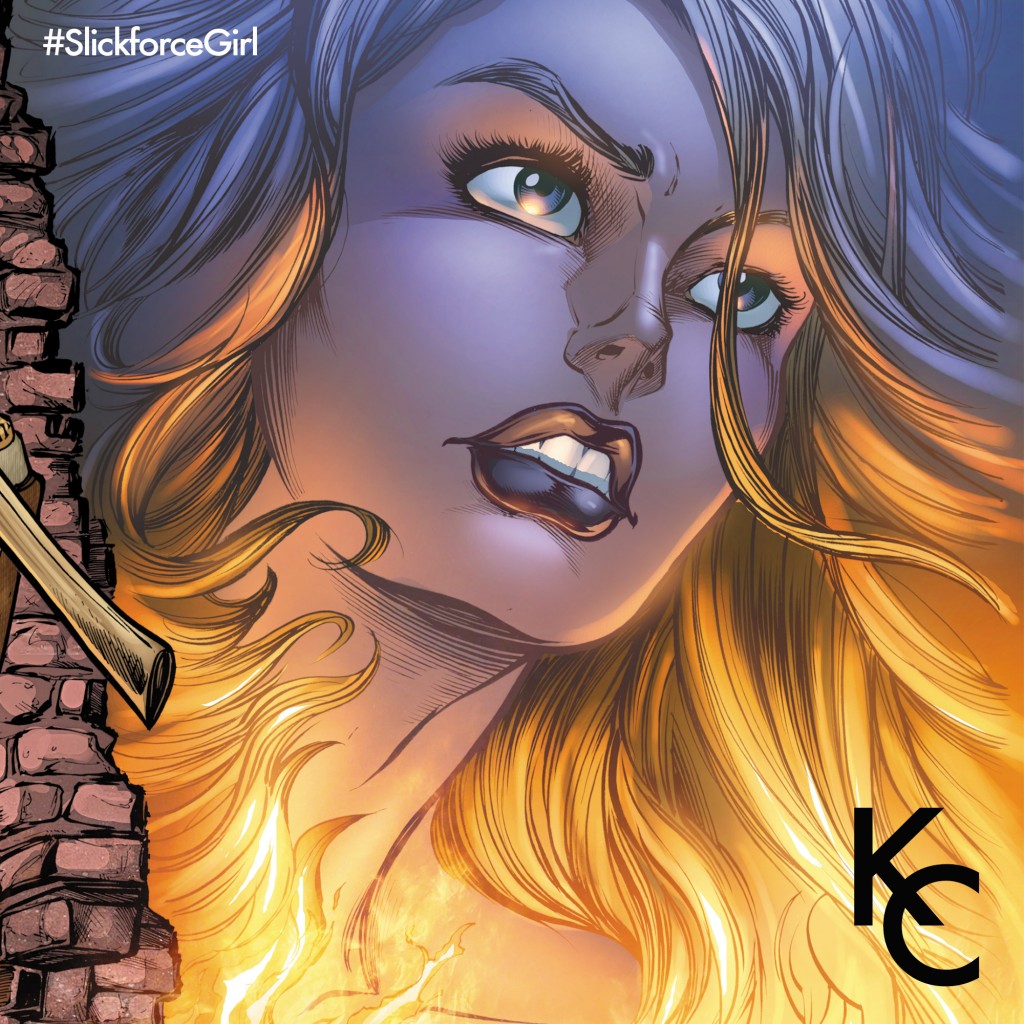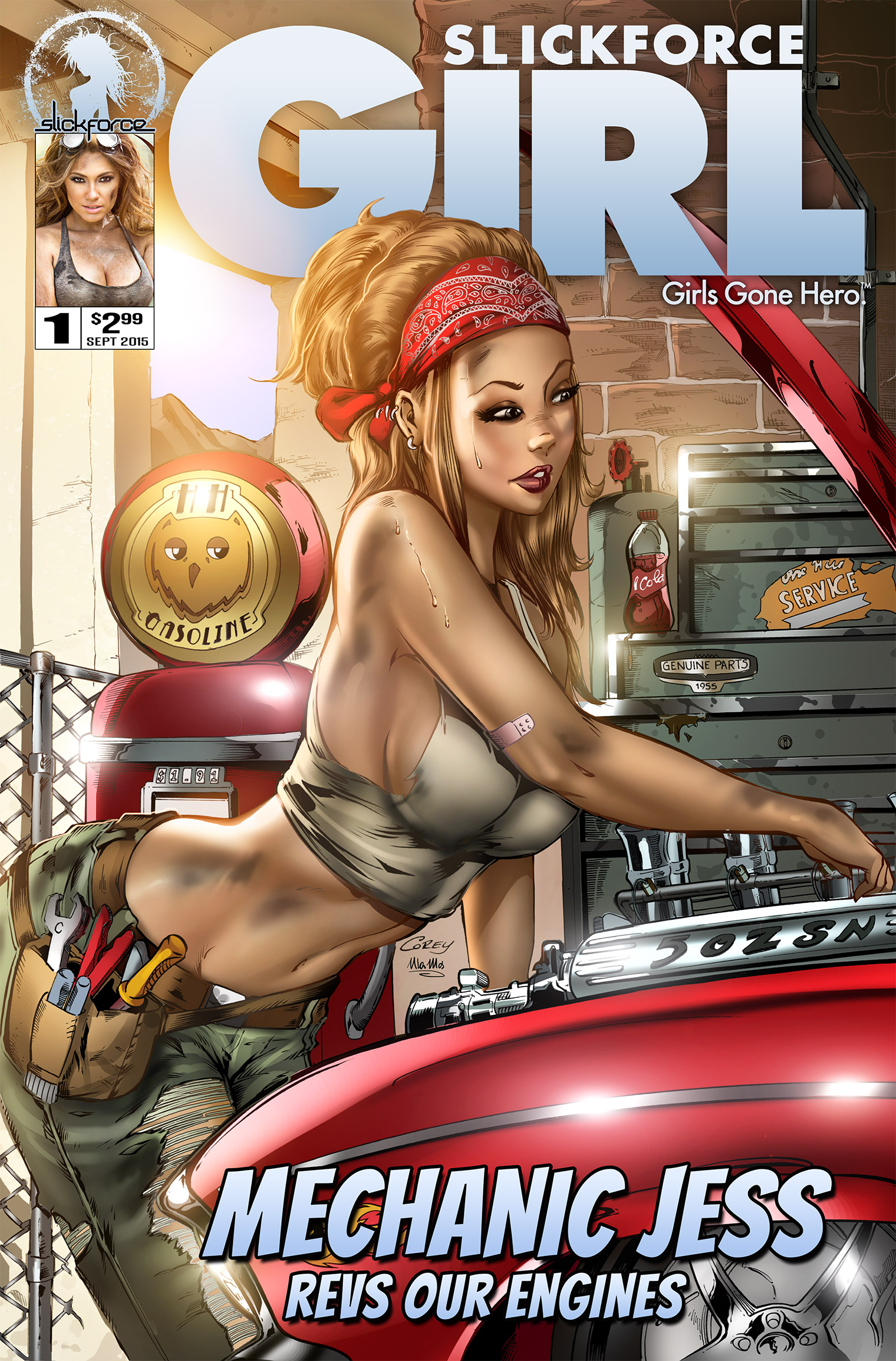 It's a scorcher here in southern California, so what better time to release this blazing hot new faux cover by SlickforceGirl artists Corey Knaebel and Ula Mos?
Fans love our Desert Mechanic Jessica character, no doubt in large part due to model Jessica Burciaga's endearing portrayal of our team's newest hero. If you missed her dynamic debut, check it out here.
Here's Mr. Knaebel's take on our gorgeous grease monkey. Click on the image for the full HD pin-up. Enjoy!
Pencils by Corey Knaebel – Deviant Art | Website | Facebook
Inks and colors by Ula Mos – Deviant Art | Facebook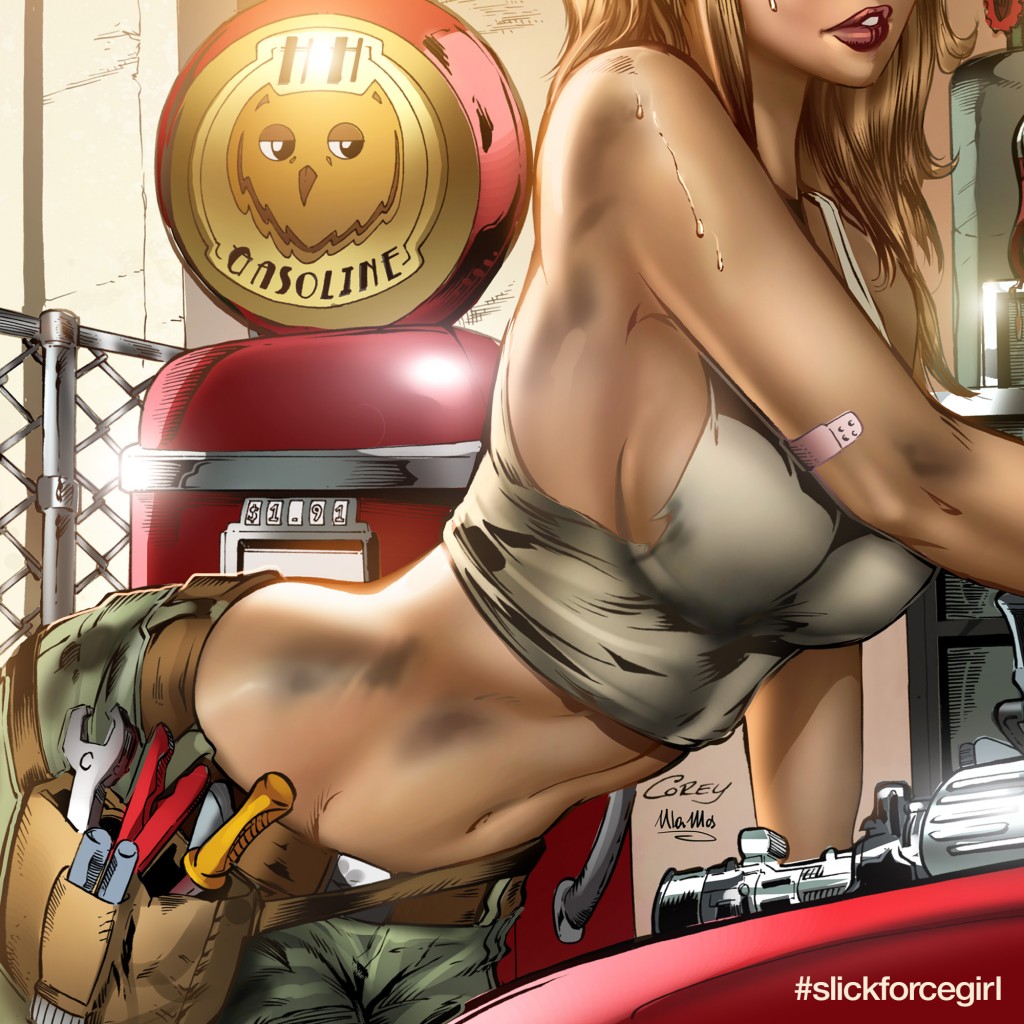 Unsurprisingly, the response to our new Desert Mechanic Jessica character has been overwhelmingly positive — roughly 70% excitement and 30% drooling — which we no doubt owe in large part to our beautiful model Jessica Burciaga, who brought this hero to life. To her credit, it was pretty much impossible to make Jess even slightly unattractive, even with mountains of grease and dirt piled on her. She was a trooper 'til the end, so we thought it only fair to give our beloved readers a behind-the-scenes look at the making of this shoot.
BTS gallery and final campaign images below. Additional images at NickSaglimbeni.com. Enjoy!
-Nick
CREDITS:
Photo: Nick Saglimbeni
Makeup: Therese Williams
Hair: Al Ingram
Styling: Diana Chan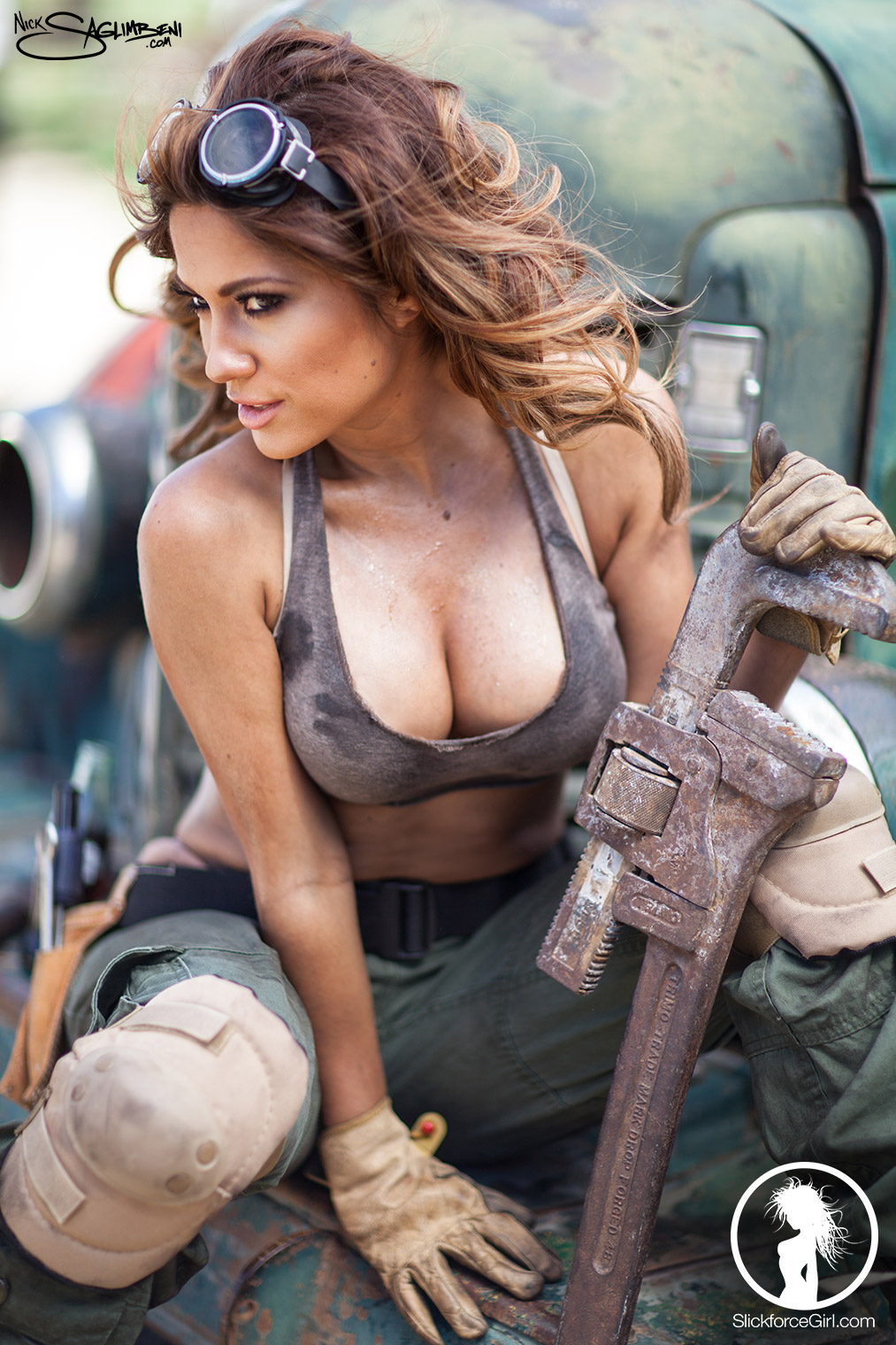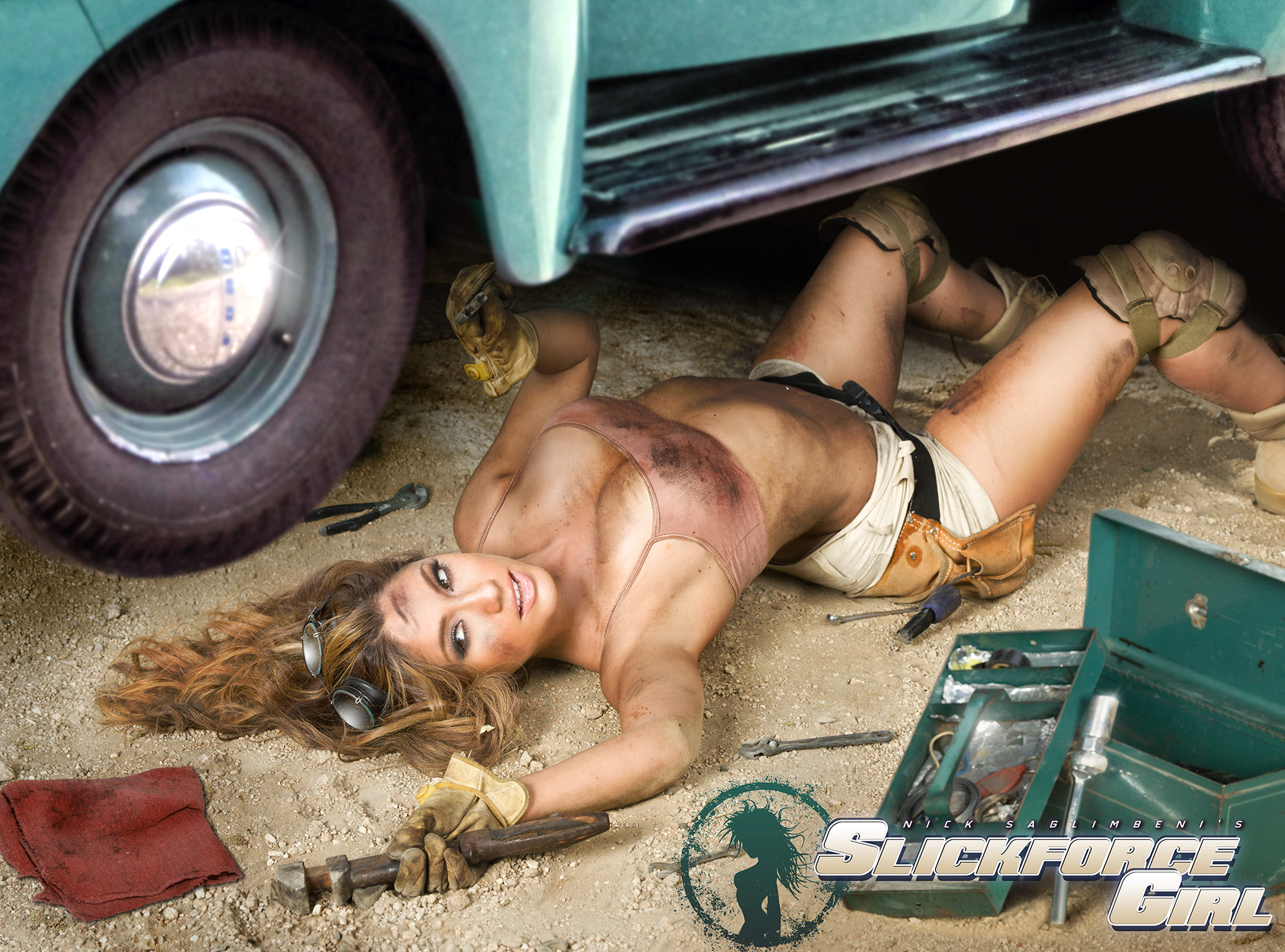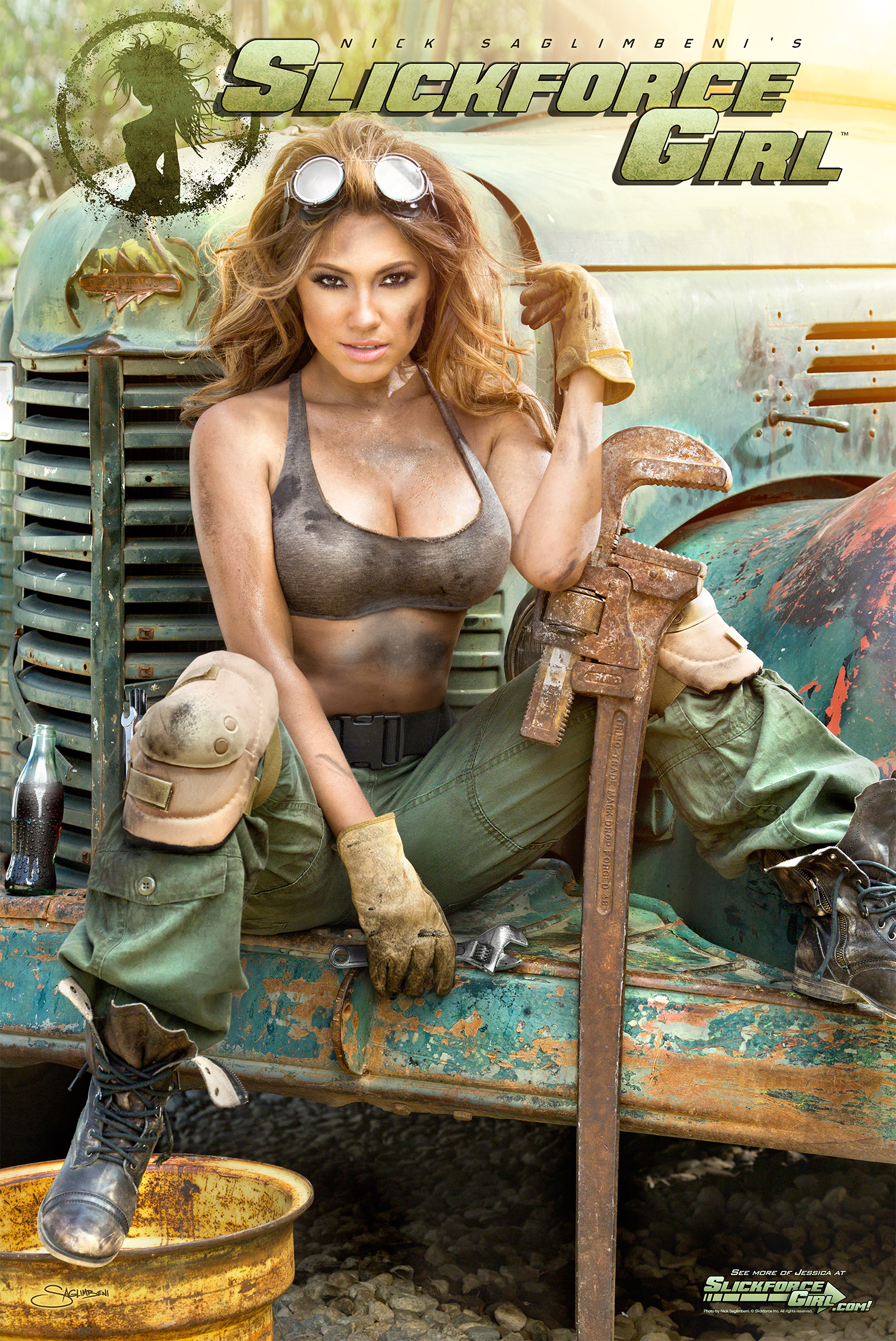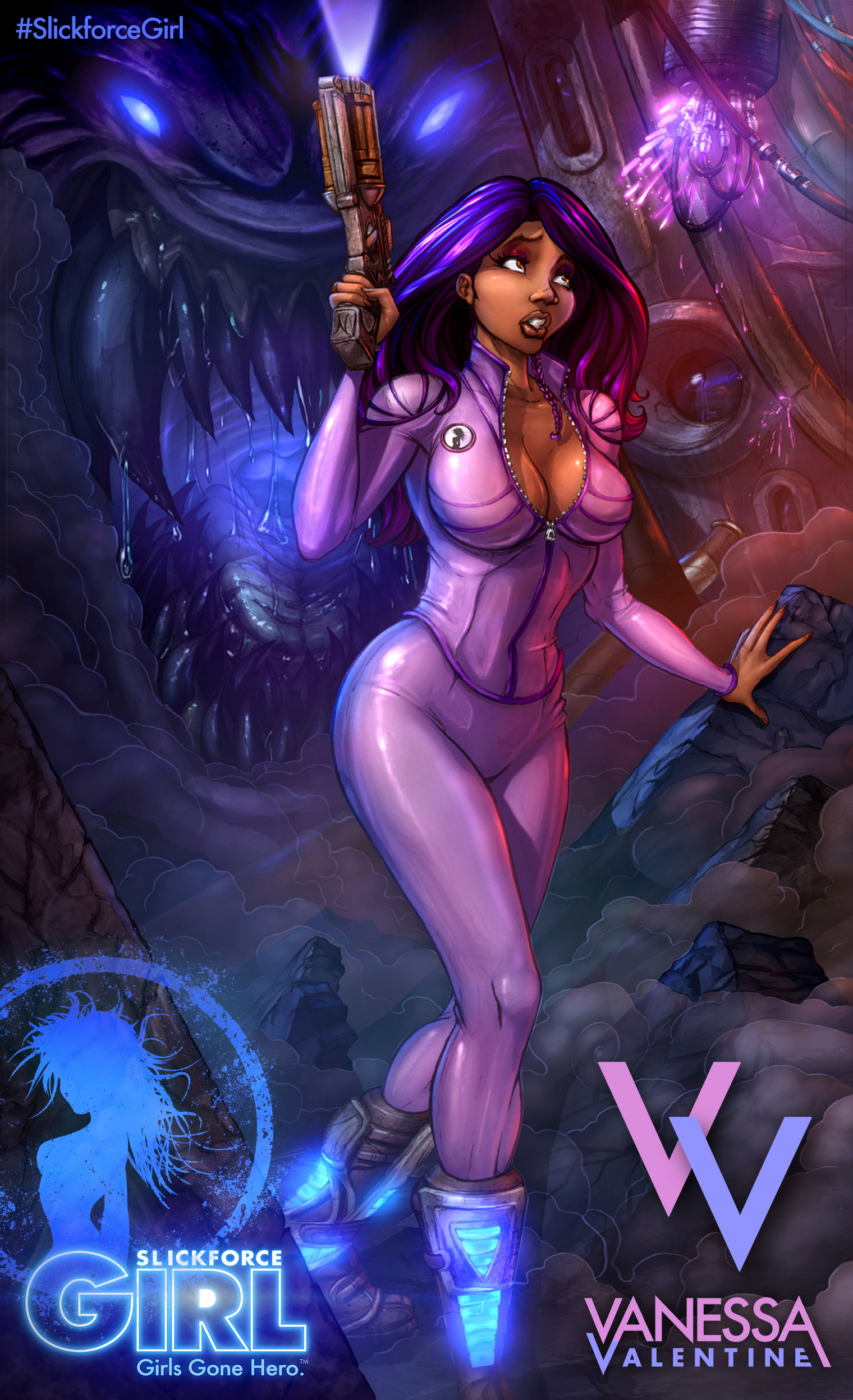 The moment we first saw the work of illustrator Nathan Seals (who works under the Nathan's Comic Art brand), we knew he was a match for drawing our Girls. Not only does Nate render beautiful female characters, but what especially caught our attention was the way his art champions leading ladies of color.
No one but our heroine Vanessa Valentine is exactly sure just how long she's been marooned in space, but judging by the wide-eyed look on her face, this piece called "Did You Hear Something?" is most certainly near the beginning of her journey. Unfortunately, whatever is lurking in the shadows doesn't really care that Ms. Valentine is still an outer space newb—she looks like food.
Click the images for the HD versions and check out some more work from Nathan's Comic Art below!
Art by Nathan Seals – Deviant Art | Tumblr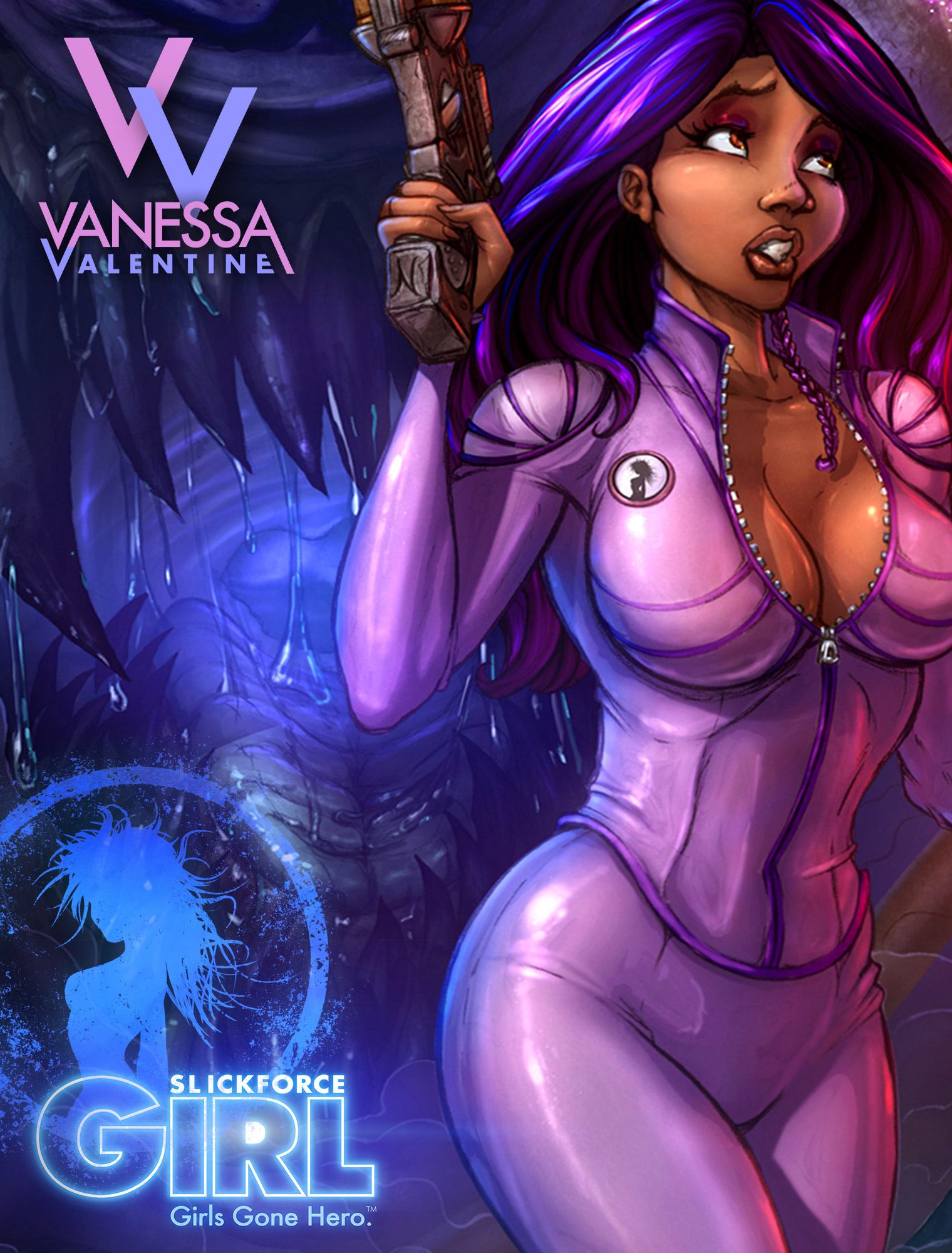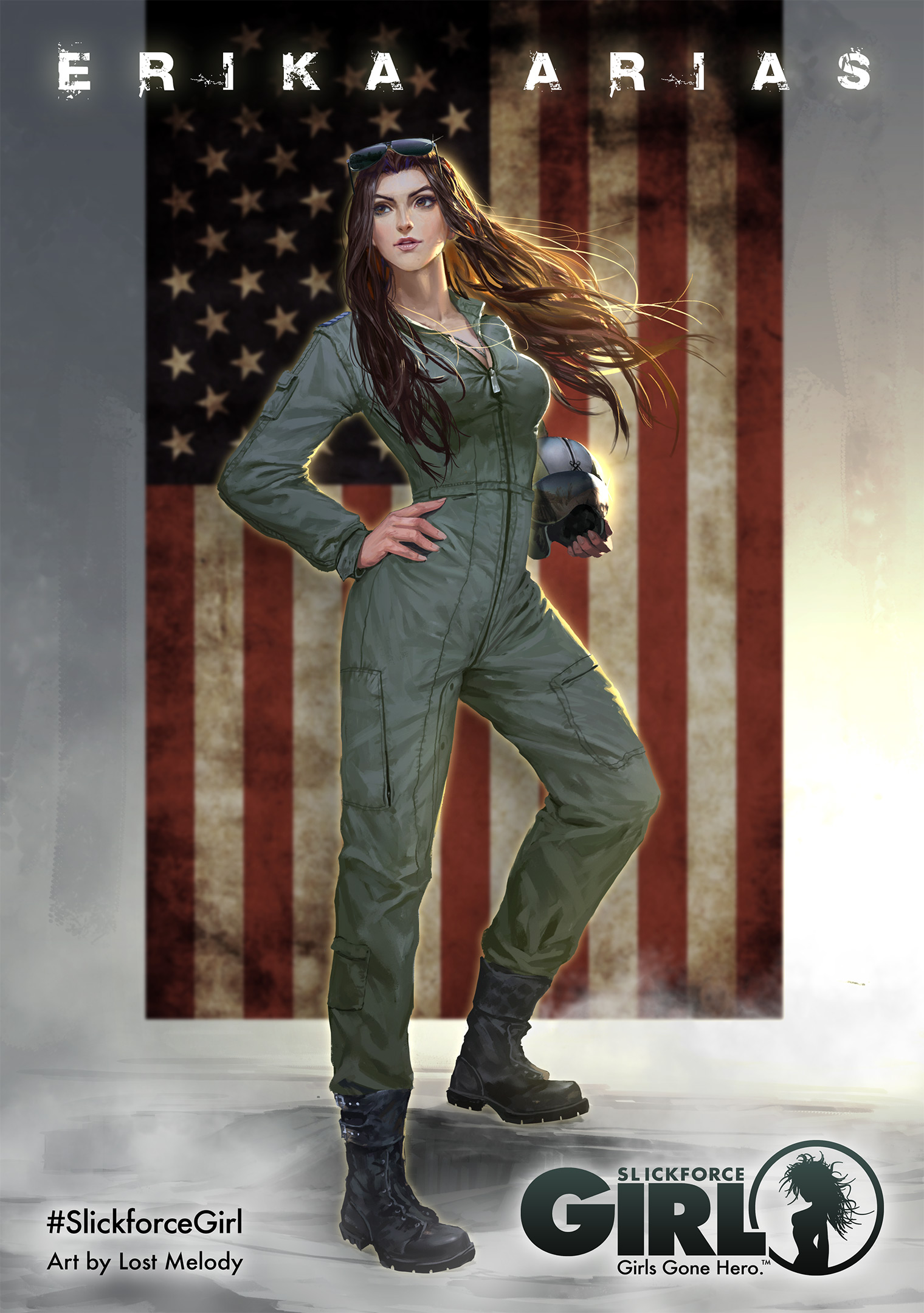 It's been almost a year since fans went crazy for our our last digital painting of Firefighter Kaitlynn by the gifted Chinese artist known as Lost Melody. Fortunately, he has delivered another beautiful piece of art just in time for the July 4 holiday—this time of our brave Air Force Airman, Erika Arias.
Click the image for the full HD version!
Art by Lost Melody (迷走之音) – Deviant Art